Writing on his Facebook page, actor Kevin Sorbo claimed that the Hollywood's Movie Ratings Board, which is assigns ratings to films, is enforcing "a form of censorship" by giving his film "Let There Be Light" a PG-13 rating. 
"Let There Be Light" was released in 2017 and the DVD version was released in February 2018. It tells the story of atheist Dr. Sol Harkens (Sorbo) who suffers a car crash that leaves him clinically dead for 4 minutes. The experience makes Harkens reevaluate his religious skepticism.
"Let There Be Light" was given a rating of PG-13 - "Parents Strongly Cautioned – some material may be inappropriate for children under 13."
Sorbo observed:
My movie, Let There Be Light, is a faith based movie with a good message of hope, love, redemption, and family. No guns. No sex. No violence....yet they gave my movie a PG-13 rating. When I asked why, they said due to a scene where my character takes prescription drugs and gets drunk on vodka. Yep. I just saw the latest Avenger movie and hundreds/thousands of people are gunned down, murdered. I have seen many other movies with extreme violence, sex, rage, with a PG-13 rating. Hmmmmm....you tell me if there isn't a form of censorship here to stop families who only look at a rating and say, "Ah, too bad we can't see Let There Be Light" when they see a PG-13 rating on it.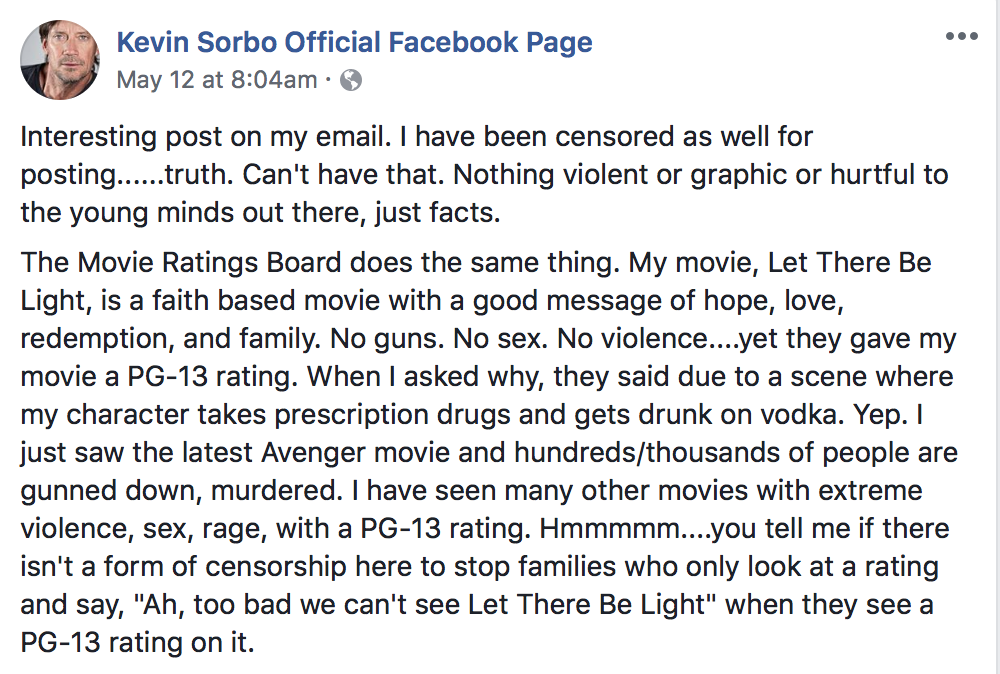 Movie ratings are provided by members of an organization called the Classification and Ratings Administration (CARA), a division of the Motion Picture Association of America (MPAA). 
CARA is made up of a Chairperson, staff members including an administrative director, senior voters, and raters, each of whom serve a term of up to seven years. Voters must have children between the ages of five and 15 when they begin their terms; can't be connected in any way to the film industry; and leave office after the end of the full term, once all of their children are over the age of 21, or at the MPAA's discretion.
The identities of the raters are kept secret.