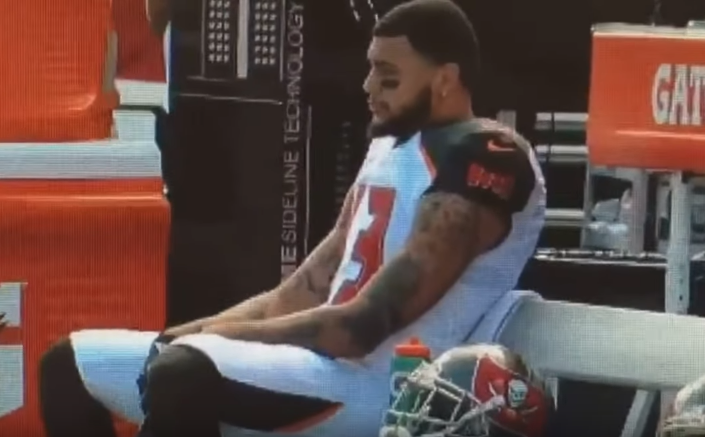 There is something to be said for protesting something you feel passionately about. It's a whole other thing when you protest something, but you take no part in the process of standing up for what you believe.
That is the case of Tampa Bay Buccaneers star wide receiver, Mike Evans.
Evans made the choice Sunday of sitting down during the National Anthem in order to display his opposition to Donald Trump's presidential victory. There's only one problem…
Evans didn't vote.
"I'm not a political person but I have common sense," Evans told WFLA in Tampa, Fla.
If Evans felt so strongly about Trump not becoming president then maybe he should have performed his civic duty and voted since voting against something is the ultimate form of dissent.
Evans did say that he "forever indebted" to our military veterans, but that he won't stand for the anthem again until "Ashton Kutcher comes out and says we've been punked."
It was noted on Buccaneers' teammate Louis Murphy's Instagram page that Evans replied "no" to whether he voted or not.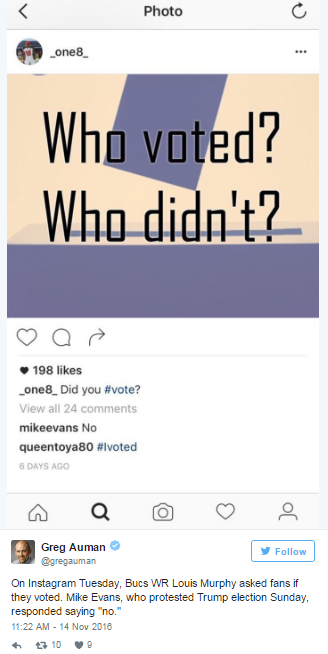 Evans has since deleted his response from the post.
Maybe he realized that it was pretty hypocritical to protest something in which he could have voiced his opposition by participating.