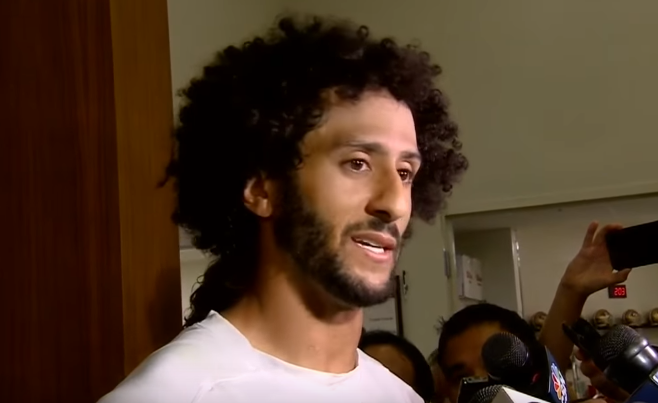 (Image: Screenshot/YouTube)
San Francisco 49ers quarterback Colin Kaepernick might get released by the Bay Area team, but it's not for the reason you might think.
Fox Sports NFL insider Jay Glazer spoke publicly about Kaepernick's chances of keeping his multi-million dollar mega deal with the Niners. Glazer intimated that Kaepernick's possible release from the team will have nothing to do with his political stance.
According to Fox Sports, Glazer said the following:
Regardless of politics or not, he has a very, very big uphill battle to make this team," Glazer said on FOX Sunday. "I'd be shocked if he's on the 49ers by the time this season ends. It has nothing to do with political views whatsoever. He lost a ton of weight this offseason, had three surgeries, couldn't work out, lost that double threat, that size-speed ratio. No political views, he just hasn't been effective. He's regressing as a player. I'd be shocked if he's on this roster by the end of this year. He may not be on it in the next two weeks.
Kaepernick recently caused an uproar in the media, and among other football players, for not standing for the national anthem.
Kaepernick said he was "not going to stand up to show pride in a flag for a country that oppresses black people and people of color." A couple days later, this moron not only did not back down from his comments, but doubled down on them.
During a press conference on Sunday, Kaepernick said:
People don't realize what's really going on in this country. There are a lot things that are going on that are unjust. People aren't being held accountable for. And that's something that needs to change. That's something that this country stands for freedom, liberty and justice for all. And it's not happening for all right now.

I'm going to continue to sit. I'm going to continue to stand with the people that are being oppressed. To me, this is something that has to change and when there is significant change and I feel like that flag represents what it's supposed to represent and this country is representing people the way that it's supposed to, I'll stand.
Maybe Kaepernick is talking about holding the criminals in Chicago who killed 10 people and injured 57 more in shootings last weekend accountable, but I highly doubt it. Or maybe he could hold President Obama accountable for his 2008 presidential campaign promise of "fundamentally transforming of the United States of America."
One thing is for sure, Kaepernick will have a lot of practice sitting, whether he is riding the pine for the 49ers or sitting on his couch at home, because no team will touch him.