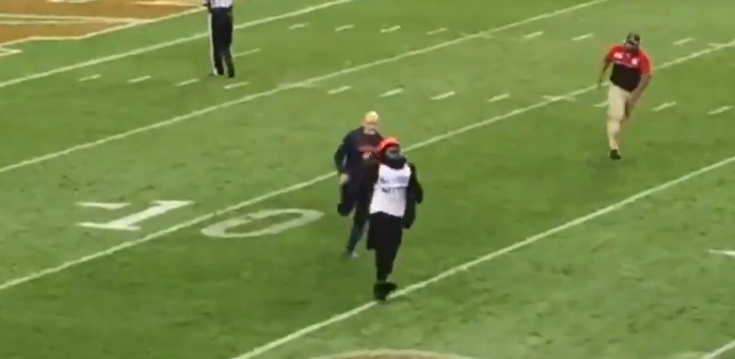 In a story that would even make the late Harambe (RIP) proud, a man wearing a full gorilla suit ran out onto the field at the Detroit Lions/Chicago Bears in Chicago on Sunday.
Fans run into gameplay all the time at sporting events, but it was what this gorilla-suit-clad man was wearing over the suit that is drawing extra attention.
Angelo Graham, 31-years-old from Maryville, Tenn., donned a tank-top with two messages over the gorilla suit when he interrupted play at Soldier Field. The back of the shirt read "Put the Guns Down," while the for-some-reason controversial "All Lives Matter" message adorned the front of the shirt.
The Chicago Sun-Times reported:
Graham allegedly ran onto the field during a television timeout during the fourth quarter of the Lions vs. Bears game, wearing a t-shirt that said "All Lives Matter" on the front and "Put the Guns Down" on the back. He was tackled by security and arrested by police.

"He actually ran right past me," Bears receiver Eddie Royal told the Chicago Sun-Times. "I thought it was the mascot at first. I didn't see the t-shirt."
Graham managed an impressive 60-yard run before multiple security guards piled on top of him as if they were recovering a fumble.
For video of the incident, watch below:
Thank you for supporting MRCTV! As a tax-deductible, charitable organization, we rely on the support of our readers to keep us running! Straight from Founder and President, Brent Bozell, please read the MRC request for support here to see how you can join the movement!