Future football hall of famer and analyst on ESPN's "Sunday NFL Countdown" Randy Moss has never been one to mince words. 
While discussing the contest between the Jacksonville Jaguars and the Houston Texans played in Houston on Sunday following Hurricane Harvey's destruction, Moss didn't shy away from speaking his mind about the positives we've seen over the past couple weeks from NFL players and community residents, praising Texans superstar JJ Watt for his extremely successful fundraising drive for the people of Houston in the aftermath of Harvey.
It's this sense of togetherness, Moss added, that helps heal a nation torn apart by "losers" who only seek to divide.
Moss had this to say:
Over the last month, we've had a lot of losers in our country out here protesting, racism, doing a lot of negative stuff. It puts a lot of bad shame on our country. But when you see the things that JJ Watt is doing — bringing winners together, bringing the community together, bringing the whole state together.
Here's video of Moss' comments:
Moss later clarified his comments on Twitter for anyone that might have misunderstood him and thought he was talking about protesters like unemployed quarterback Colin Kaepernick: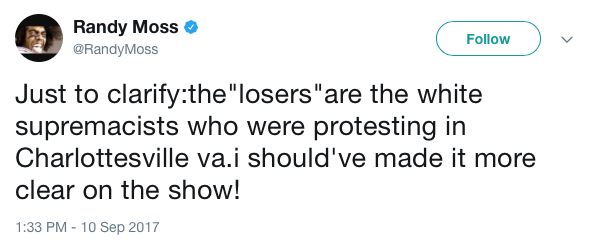 When it comes to Americans pulling together after a natural disaster, Moss is right. Watt began his fundraising campaign for Hurricane Harvey victims with a goal of just $200,000. The effort has so far garnered $31 million in donations.
H/T: USA Today Sports