Well, at least the left is getting good exercise jumping to conclusions while everyone is working from home. Newsweek ran a story about a photo posted to Instagram by conservative radio host Erick Erickson of a glowing cross in his front yard. A cross decorated with Christmas lights.
The news magazine ran a story Sunday with the headline: "Conservative radio host Erick Erickson criticized for placing 'burning cross' in front yard." What was actually burning upon the cross was Christmas lights, in an attempt by Erickson to show the "light shining in the darkness."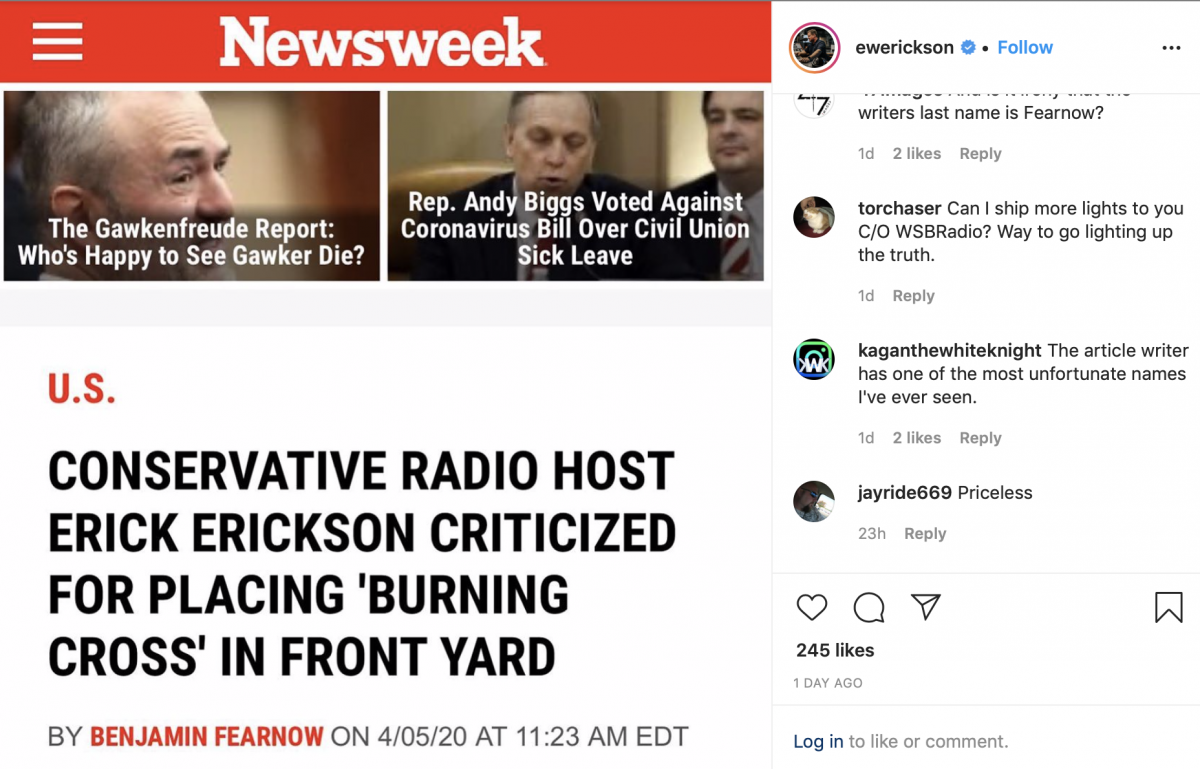 Erickson fired back with a story about the nature of the "burning" cross that graced his front lawn, explaining how two local Georgia boys were selling the crosses as part of what they called a "faith over fear" campaign, and using the proceeds to purchase snacks for hospital break rooms. 
He went on to mention how, since most people are currently unable to attend church, and as the Easter season is nearly upon us, many had purchased the crosses and put lights upon them or shone spotlights on them. He made the decision to follow suit and place some lights upon his cross. 
Newsweek later amended their headline to a more subdued "Conservative radio host Erick Erickson accused of racial insensitivity for putting lights on cross in his yard." 
Erickson has responded to the issue, "At the time Christians are focused on the resurrection of Christ, the world still hates them. In New York City, activists are outraged at Samaritans Purse building a field hospital. On the internet, pagans are mad because someone prominent has wrapped Christmas lights around an Easter cross to remind people of the light shining in the darkness. They'll try to shame me because of who I am and they will try to use that to silence others. Me? I'm going to buy extra lights to make the cross shine brighter."