The New Yorker claims in a new article published Friday that the opening of a Chick-fil-A location in New York City "feels like an infiltration" because the fast food restaurant is owned by Christians.
"Chick-fil-A's arrival in New York City feels like an infiltration, in no small part because of its pervasive Christian traditionalism," the New Yorker complains of the popular chicken sandwich joint, whose waffle fries are potentially the greatest invention since mankind first started gnawing on a potato.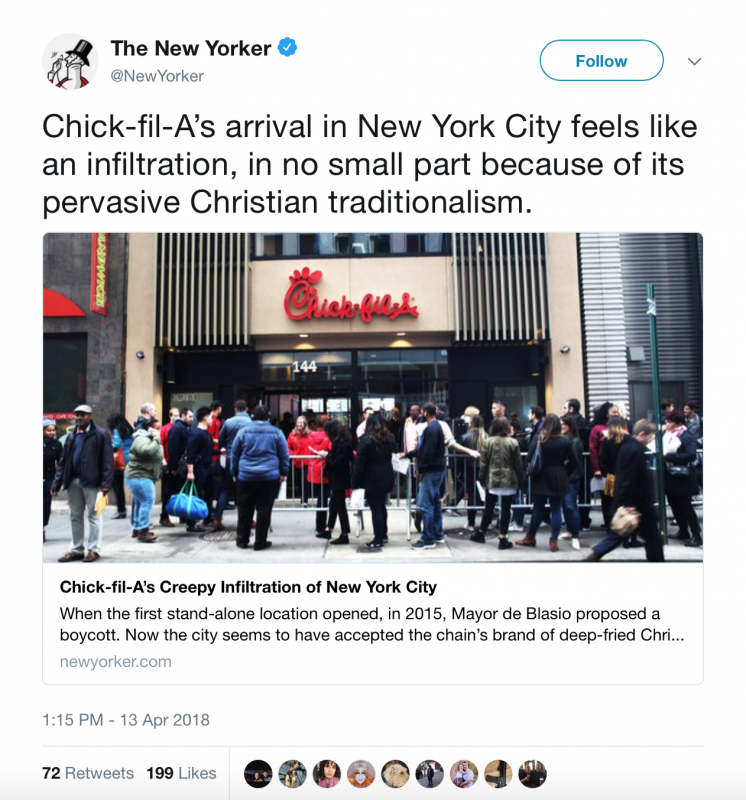 In the article (which isn't worth wasting your time on, but be my guest), writer Dan Piepenbring condemns Chick-fil-A as "creepy" for everything from its Christian owner to its generous charitable donations and its use of a cow mascot to sell chicken.
But Piepenbring's vitriol toward the sandwich shop over its owner's faith seems like more than just a stretch, considering it's not like the eatery is serving its perfectly-balanced salads with a side of Bible and a 16 oz. bottle of holy water. They simply make food -- really, really good food.
Of course, no publication in the country, including the New Yorker, would ever dream of insulting an eatery owned by persons of any other faith but Christianity. But it's fair game to go after Chick-fil-A because their owner personally espouses Christian values, despite their honey-drizzled chicken minis and prepared-daily Greek yogurt parfaits potentially being the world's best breakfast this side of your mama's kitchen.
And maybe even better, if she's got a tendency to dry out the eggs.
It seems as though many in the public agree that the New Yorker's all-out attack on Truett Cathy's Atlanta-based restaurant – whose impossibly thick milkshakes are second only to the chain's famously high standards for customer service – was more than a little ridiculous.
 
it's just a chicken sandwich, not the inquisition

— Stik2Sports (@stik2sports) April 13, 2018
Good thing we don't treat people differently for their religious views

— John Norcali (@JohnNorcali) April 13, 2018
"Ugh! Why'd it have to be a 6-days-a-week chicken place staffed with super-polite kids? Why couldn't they have put something more culturally uplifting there, like a mosque or an abortion clinic?"

— Mike Partyka (@MichaelJPartyka) April 13, 2018
April 13, 2018
Are you guys really that threatened over a chickenstand

— conscious🤙🏾🇺🇸 (@conscious___) April 13, 2018
New York City is a melting pot of diversity and culture that welcomes illegal aliens, but keep out for those invading Christian-owned businesses.

— Razor (@hale_razor) April 13, 2018

Just shut up and eat the sandwich, Piepenbring. We promise, you'll feel better.