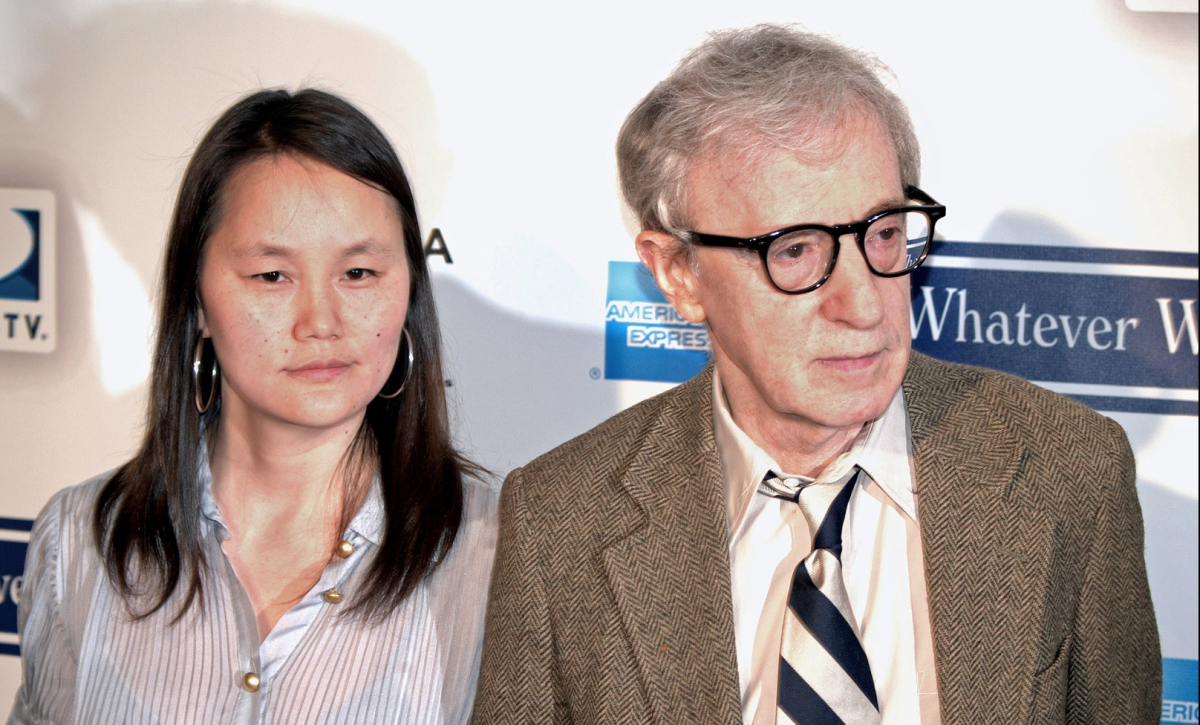 (Soon-Yi Previn and Woody Allen at the 2009 Tribeca Film Festival. Photo David Shankbone)
Have the elites finally tired of Woody Allen?
Possibly, argues New York Times film critic Manhola Dargis.
In a piece about the fallout over rampant allegations of sexual abuse in the entertainment industry, Dargis talks about how people in Tinseltown may be taking a second look at Allen, who married his ex-wife's daughter, who is 35 years his junior, and whose 1979 film, "Manhattan," is about a 42-year-old comedy writer dating a 17-year-old high school student.
Dargis centers her argument on the comedian Louis C.K., who recently admitted to sexual misconduct and has a new film out, "I Love You, Daddy" which, Dargis observes, "is partly about the Woody Allen Problem."
The film tells the story of  a successful television director, Glen (Louis C.K.), whose 17-year-old daughter, China (Chloë Grace Moretz), falls in love with a 68-year-old filmmaker named Leslie (John Malkovich), who, as someone says, "likes young girls."
Dargis notes that "I Love You, Daddy" star Louis C.K. is a huge Woody Allen fan, which affected the style of the film, whose "black-and-white cinematography is an obvious reference to Mr. Allen's oft-celebrated 1979 film 'Manhattan,' in which he plays a comedy writer having an affair with a 17-year-old girl." 
Yet in light of Harvey Weinstein and mounting Hollywood scandals about sexual abuse, writes Dargis, views about Woody Allen may have changed: 
Has that love [for Woody Allen] soured? Did it sour in 2014, when Mr. Allen was accused by his daughter, Dylan Farrow, of sexually molesting her? However starkly confessional "I Love You, Daddy" sometimes registers as, it can also be seen as an act of symbolic patricide, a way of addressing a tarnished idol. Shortly before it ends, China turns 18 and offers herself to Leslie, who for the first time seems uninterested in her. Perhaps that's meant to suggest that he doesn't actually seduce girls or that China, at 18, is now too old for him. Your interpretation may vary, though it's worth noting that Leslie later enthuses about how wonderful it is to be "loved by a girl and then be rejected by the woman she becomes."
Dargis concludes that she appreciated "I Love You, Daddy" the first time I saw it because "Louis C.K. seemed to be pointing at Mr. Allen with a queasy homage that was getting at the truth of 'Manhattan' even as 'I Love You, Daddy' circled — and circled — its own creator's complicity in female exploitation." 
But "when I watched 'I Love You, Daddy' a second time, the jokes no longer landed; its shocks felt uglier, cruder. But for once a filmmaker seemed to be admitting to the misogyny that we know is always there and has often been denied or simply waved off, at times in the name of art."
Translation: Louis C.K. has a guilty conscience and Hollywood is full of creeps.
Thank you for supporting MRCTV! As a tax-deductible, charitable organization, we rely on the support of our readers to keep us running! Keep MRCTV going with your gift here!