(Writer's Note: While writing this article, Montelongo - or someone working for her - deleted the second tweet shown below calling for activists to "shut-it-down.")
When activists take over any country's government, the country said government oversees will see a general downturn, not only in the freedom that government "allows" its populace to have, but in the "tolerance" displayed by the "useful idiots" towards anyone of thing that doesn't fit its "worldview." 
New deputy director for political strategy and outreach under the Biden regime Natalie Montelongo posted multiple tweets in 2018 calling for U.S. Immigration and Customs Enforcement (ICE) to no longer "exist" and for activists to "shut-it-down" one of which she surprisingly hasn't deleted — most likely because radical activism isn't frowned upon by the current administration.
Here are the tweets in question which, despite Montelongo not deleting one of them, will be presented below in screenshots in case she gets an itchy delete finger (which it appears she has):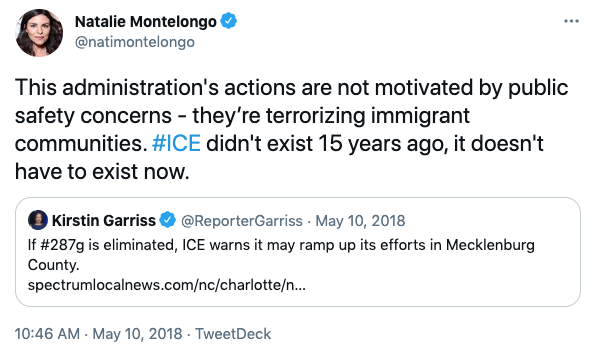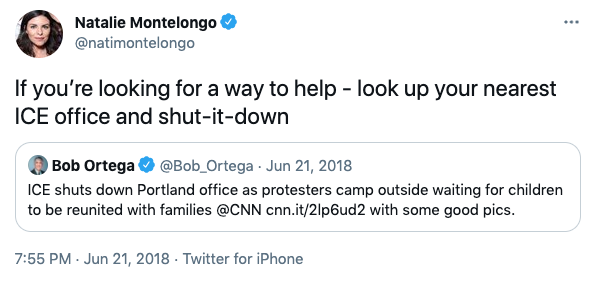 So, a current member of the Biden regime openly called for activists to shut down government offices. Some might call that a call to insurrection or sedition.
But that's okay when you're on the far-left, because accountability is only required for undesirables the people in power look down their noses at.
Montelongo is all about identity politics, as during a Sunday interview with The Brownsville Herald she went on and on about how great the Biden regime is because of the identity of the people who work within the "administration" and not for what they might've accomplished.
"It feels like an honor to be working for the administration who elected the first woman vice president and how this administration also appointed the most women before the 100-day mark," Montelongo said. "It has the most diverse Cabinet and it has two women from the Rio Grande Valley working for one of the most important offices. I feel honored, and I think it speaks to what the vision of this president is. It's a vision of being inclusive and making sure that everyone has a seat at the table."
Nevermind whether the people at that "table" are qualified or not, which they very well could be. But, that's not what this regime wants the people to focus on, and if you don't, you're probably a bigot (that's called sarcasm).
H/T: Fox News