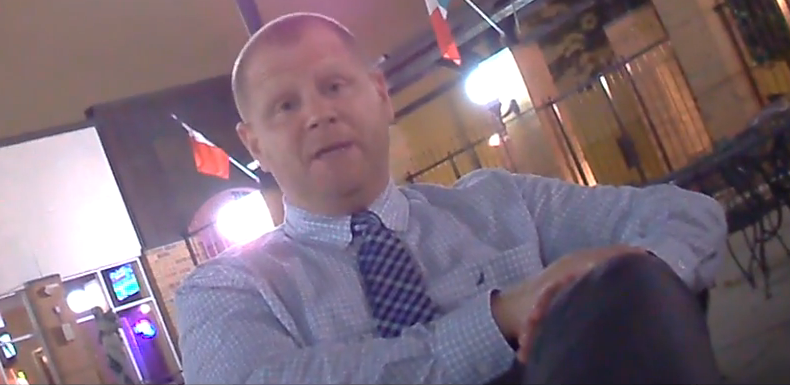 "It was not a bartender?"
Everyone remembers the "47 percent" video that pretty much was the nail in the coffin for Mitt Romney's presidential bid in 2012. And most people remember the story that many reputable news organizations reported about a bartender who was supposedly the one who recorded the whole thing.
That is apparently not the truth.
James O'Keefe's Project Veritas Action released another video late Wednesday night allegedly showing the now former national field director for Americans United for Change, Scott Foval, admitting that it was not the bartender's phone that took the video of Romney's now infamous remarks.
In 2013, CBS News reported this about the bartender:
The bartender working the private Florida fundraiser where Republican presidential nominee Mitt Romney made his comments about "47 percent" of Americans says he didn't make the secret recording as a political partisan.

In his first public interview, Scott Prouty tells MSNBC's Ed Schultz that he lost sleep and struggled for weeks before deciding to release the recording to the magazine Mother Jones.
In the video, according to Foval, Prouty probably lost sleep because he was talked into filming the situation, and the cell phone in question wasn't even his.
Foval brought up Robert Creamer, who was until recently the founder of Democracy Partners and close friend to the Obama White House, all the while reporting to the DNC.
Foval told the PVA journalist:
Bob got ahold of our guys who did the original insertions back in the 2000 and 2004 campaigns against Bush where they were inserting people and interrupting his fundraisers and his rallies […] They do it all over the country, yeah. And then I don't know if you remember, well from, they are the ones who negotiated to get that lawyer in Florida who recorded the 47 percent video.
When the PVA journalist asserted that they thought it was the bartender who recorded the video, as was widely reported, Foval replied that it was in fact the lawyer that was behind the video.
Foval commented, "No, the lawyer took his phone and had the bartender walk around with it and set it up."
Foval even did the undercover journalist the favor of telling them why the bartender was a part of the recording of Romney.
"It was a whole coordinated operation to get the phone in because they had taken away all the cell phones from all the staff and so what they did was they set it up in the room," Foval divulged.
For video of the conversation, watch below: