Children will be educated on how to flee from terrorist attacks in a new book geared toward primary schoolers.
The book "Moggy's Coming," produced by charity citizenAID, reportedly instructs students to "run, hide, tell, treat" in the instance of a terrorist attack. It also allegedly includes poems and nursery rhymes.
According to pages obtained by the Daily Mail, the story takes place at a school called Mulberry School in a town called "Goodcitizenham." While the children and teachers are all mice, they're guided about what to do if a cat attacks.
The mice are told, "Most of the time cats cause no trouble, but they are well known to chase mice - and to eat them if they catch them!"
Children—and the mice—are instructed to run away from the cat (or the hypothetical attacker), hide, tell the police about the incident, and treat anyone who is wounded.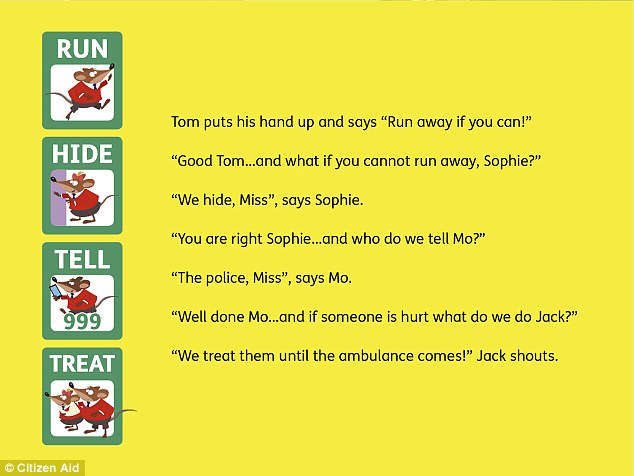 (Image source: citizenAID/Daily Mail)
The mice are told to practice running and hiding from cats, just like how practicing instruments makes people better at playing them: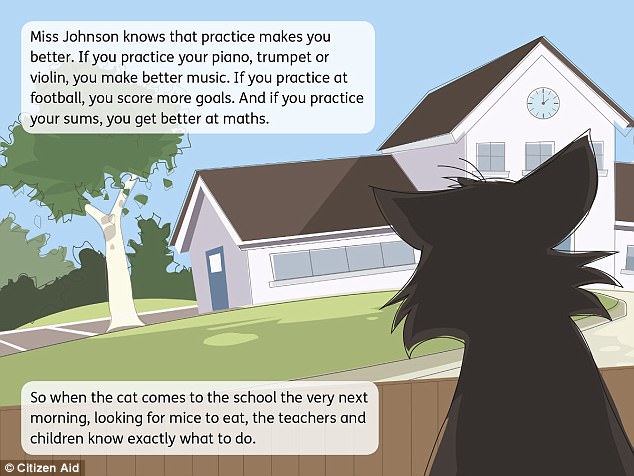 (Image source: citizenAID/Daily Mail)
In the book, a cat allegedly comes in search of mice the day after the mice practice the drill. Since the mice have been practicing, they know how to act in the case of an attack.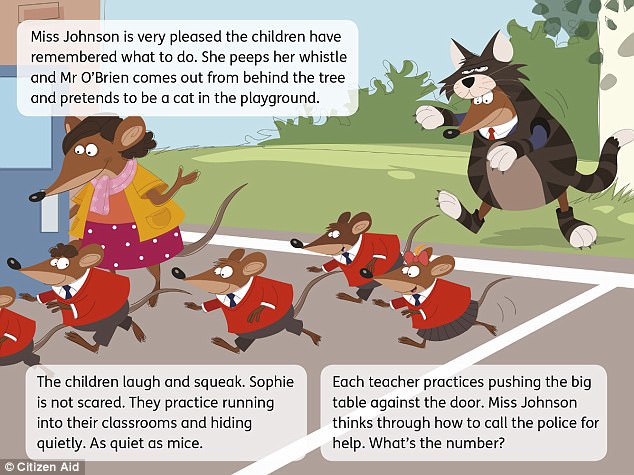 (Image source: citizenAID/Daily Mail)
Tim Hodgetts, of citizenAID and the Defence Medical Services, told the HuffPost UK, "The message for young children is a generic one - how to react if someone is trying to hurt you. This is as relevant to the more frequent knife crime incidents, as it is to infrequent terrorist events."
However, the Daily Mail reports he also said, "If we look at the allegories, they are not talking about terrorism, they are talking about if you are in a situation where somebody is trying to hurt you."
Regardless, he told the HuffPost UK the point of the book is so children can "be prepared, not scared" in the case of a dangerous incident.
"This is of course a sensitive issue to talk about," Hodgetts said. "Using an illustrated story that shows the mice dealing well with a most difficult situation, aims to give confidence and reassurance that you can 'be prepared, not scared.'"
The book has reportedly been used by approximately 500 teachers in Birmingham as part of a pilot study. Every teacher indicated they would use these kinds of cartoons to teach their students about real-world problems.
Thank you for supporting MRCTV! As a tax-deductible, charitable organization, we rely on the support of our readers to keep us running! Keep MRCTV going with your gift here!
Sponsored Links