I love this so much! Some holiday gift ideas are rather garbage. Some are thoughtful and personal. This next one is for everyone — well, as long as you're not easily triggered.
Just in time for the holiday season, toy maker Hasbro has come out with a new version of the classic game Monopoly that should give you endless chuckles, as it did for me.
While there are tons of versions of the classic real estate game, this version, titled "Monopoly for Millennials," hilariously trolls the "triggered" generation. Hasbro might have thought they were sympathizing with millennials, but when you see the contents of the game you can't help but snicker at, not with, the "entitlement" generation.
According to The Blaze:
The new version of the iconic Hasbro board game mercilessly pokes fun at millennials: From the box's tagline ("Forget real estate. You can't afford it anyway") and the product description ("Adulting is hard; take a break from the rat race…") to the familiar top-hatted tycoon who sports earbuds, sunglasses, a coffee cup, and an "I participated" medal with ribbon pinned to his tuxedo, it's a hilarious roast.

Players don't buy up properties; they collect "experiences" — such as a weeklong meditation retreat, bellying up to an artisanal coffee bar, heading to the vegan bistro or the farmer's market, or simply your friend's couch or your parents' basement.
There's more fun to be had with the game, but I don't want to give away too much — partially because I don't want to spoil the game for myself should I actually play this game.
Right on cue, millennials proved Hasbro's point by being supremely offended by the premise of the game: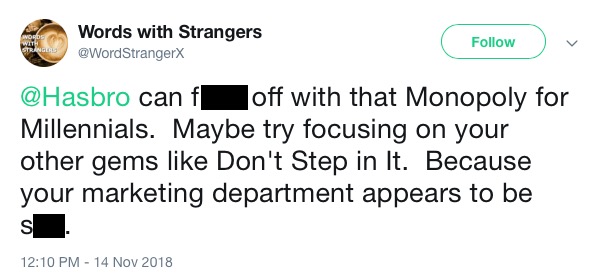 Unfortunately, I'm right on the earliest line for being a millennial. The difference between me and a large portion of my generation is that I know how to take a joke.
Now, if you'll excuse me. I need to play this game while wearing a fedora and sunglasses indoors, drinking a pumpkin spice soy latte, and eating a kale and quinoa salad that I bought at Whole Foods.
Time to pass go!
If you'd like to see some of the facets of the game, watch the video below: