The Party for Socialism and Liberation and ANSWER (Act Now to Stop War and End Racism) will be gathering at the New Mexico State House in January to let lawmakers know they really, really want to be able to legally kill babies - preferably with tax dollars.
Members of the the long-titled socialist group are upset over a 1969 New Mexico statute that made it a felony for an abortionist to terminate a pregnancy, with exceptions for rape, birth defects and serious threats to a woman's health. 
The law became moot after the Supreme Court's Roe v. Wade decision in 1973, but now with Supreme Court Justice Brett Kavanaugh on the bench, New Mexican socialists are really concerned that limits on baby killing may be in the future.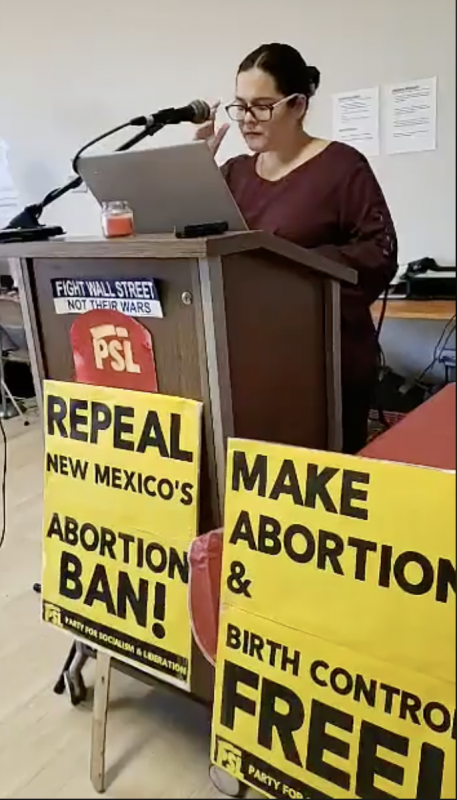 Candice Yenez of PSL rally socialists for abortion at New Mexico's State House during a press conference. (Facebook screenshot)You can see the PSL press conference here.
During a press conference Wednesday, Candice Yenez of PSL was surrounded with signs proclaiming, "Make abortion & birth control free!" and "Repeal New Mexico's Abortion Ban!" Yenez told reporters, "With the confirmation of Kavanaugh, it's more likely the undemocratic Supreme Court will overturn Roe. That would leave individual states to decide if abortion was legal or not."
Yenez argues that New Mexican lawmakers that have campaigned on women's rights, should prove their support for women by aiding in the killing of babies in the womb.
"If they want to prove it, they can speak out by repealing New Mexico's abortion ban and make the state law reflective of US constitutional rights to an abortion," Yenez said.
According to the Albuquerque Journal, lots of Democrats are going to try to help the socialists achieve their legal baby killings. State Rep. Joanne Ferrary of Las Cruces has said she will introduce legislation to repeal the state's abortion ban. The repeal also has the support of Democratic Governor-elect Michelle Lujan Grisham, Democratic House Speaker Brian Egolf and Democratic Senate majority leader Peter Wirth.