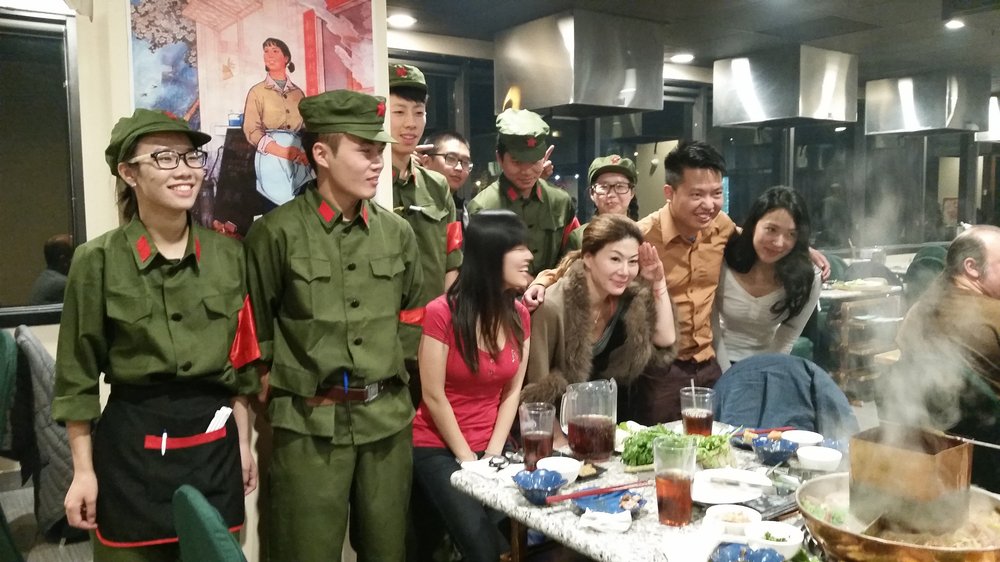 (Image source: Danny N., Yelp)
You can commemorate the millions who starved to death under Mao's communist regime by gorging yourself with pricey food at a new kitschy communist-themed restaurant.
The new Monterey Park, California hot pot restaurant "Private Party" is a play on words: while restaurants are often known for hosting private parties, the name of a restaurant is a reference to the Communist Party Gang of Four that helped implement Mao's Cultural Revolution.
LA Weekly reports Private Party's gimmick is Communist China nostalgia. The restaurant features waiters and waitresses dressed in Red Guard uniforms and Communist-style propaganda as décor.
According to LA Weekly, the restaurant's communist cuisine features approximately 16 seafood items, 20 different kinds of meat, and a variety of vegetables.
Private Party's Yelp page claims food at the restaurant is approximately $11-30 a plate.
One of the owners of the restaurant, Jessica Zhang, told LA Weekly that "Sometimes, people get a bit offended" at the theme of the restaurant.
Despite the theme of the restaurant being a throwback to Mao's China, one of the owners (who refused to be identified) told LAist, "We wanted to update the tradition and make it more enjoyable, while still bringing authentic Beijing-style hot pot to our customers. We wanted Private Party to feel like home, as if guests were just dining in their dining room."
The approximately 65 million people who perished during Mao's rule probably have a hard time calling a swanky Los Angeles restaurant that profits off their genocide as "home."