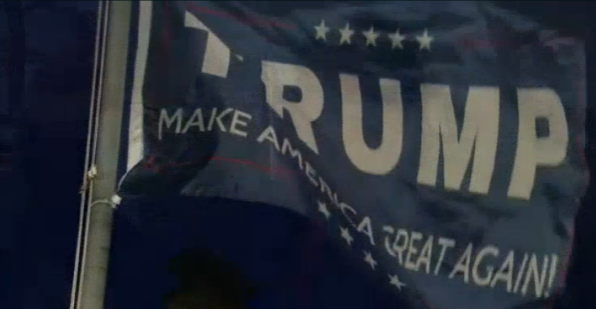 A New Jersey man could spend 90 days in jail for flying a flag showing his support for Republican presidential candidate Donald Trump in front of his house.
News12 New Jersey reports West Long Branch resident Joe Hornick received a summons for displaying a political sign more than 30 days before an election.
Hornick told News12 New Jersey, "You can obviously see it's a flag and there's nothing mentioning about an election or any particular party. I'm a fan of Donald Trump, so was my mother—which she recently has passed away, God rest her soul—but she was a Trump fan and I had these flags at half-mast to represent her passing and they robbed me. And every time they rob me, I put the flag back up."
According to NBC New York, Hornick faces a $2,000 fine or 90 days in jail.
Hornick told NBC New York, "Let them come. Let them rip those flags down. Because I have a warehouse on alert and I'll put the flag up every time they tear one down."
Hornick said if the government rips down one of his two "glorious" flags on display, he will just put another one up.
Hornick claims his flags have already been ripped down five times.