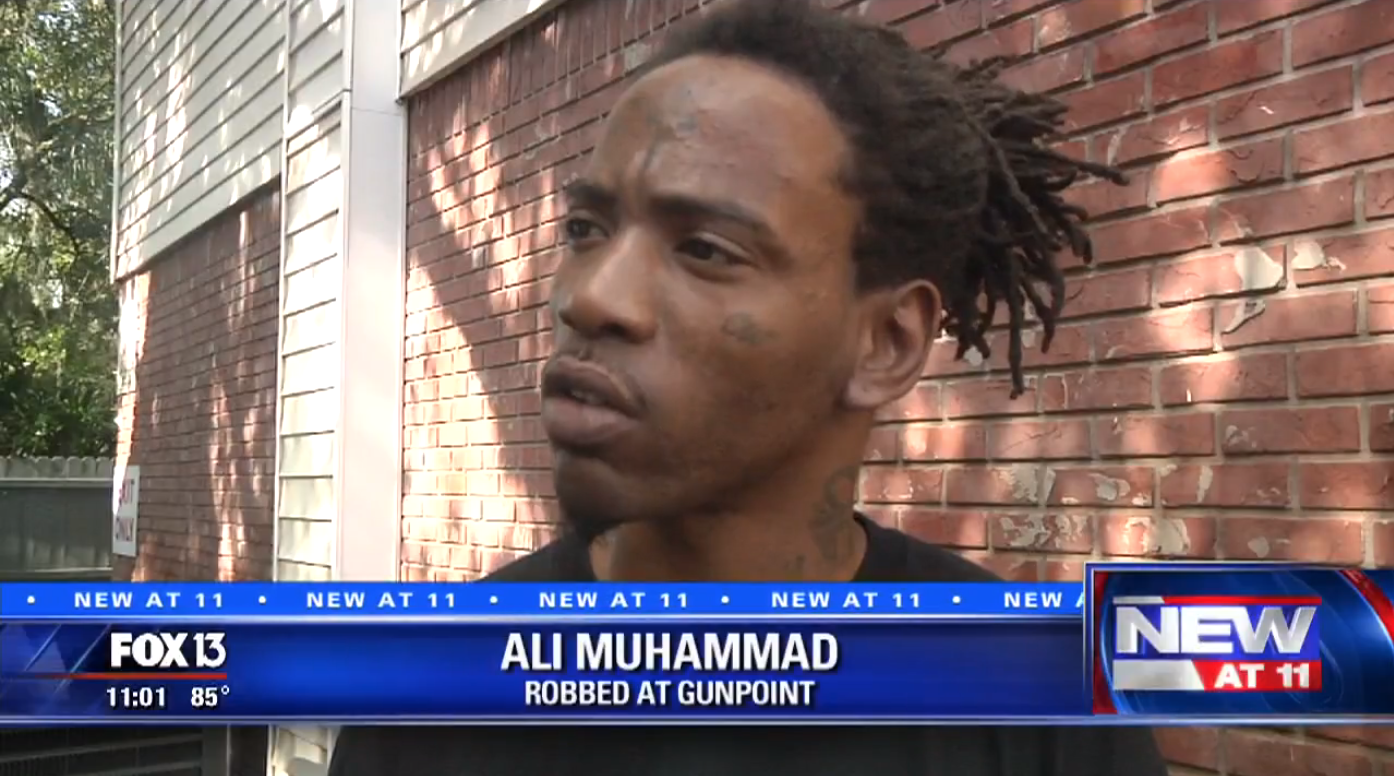 After being assisted by police officers, the leader of a local New Black Panther Party group Ali Muhammad still remains "very anti-police."
Muhammad had reportedly just finished up a DJing gig at a club in Ybor City in Tampa, Fl. when he was robbed around 3 a.m on Saturday. An 18-year old black man by the name of Antwan Robertson, who is suspected of being homeless, held Muhammad at gunpoint. He demanded Muhammad hand over his earrings and backpack.
According to the police report, Robertson later robbed two other women at gunpoint.
More from Fox 10 Phoenix:
"I was approached by a young black male who just came up to me and said, 'Give me your earrings and your backpack,'" recalled Muhammad. "He took everything I had. At the time, he didn't take my cell phone, and that's what made me call 911."
I mean, who else was he going to call? He didn't have anything to protect himself and the police are meant to protect people. But I think it's astounding that the same group of people Muhammad is supposedly against, are the same group of people he calls for help immediately after being robbed. The irony!
Muhammad allegedly followed Robertson down the street but the dispatcher advised him to cease his pursuit. Tampa police is said to have arrived at the scene within 10 minutes of Muhammad's phone call and had to chase the assailant to a nearby Burger King parking lot before arresting him.
Robertson is currently being held on a $62,500 bond in the Hillsborough County Jail. He is being charged with three counts of armed robbery, possession of a firearm, and drug possession.
I think it's fantastic that the police did their job and arrested a man who committed a horrible crime. That's what they do. But Muhammad seems to think otherwise.
After the incident, Muhammad told Fox 10 Phoenix:
"Police can be hostile and very belligerent. Friday night, I met some officers who [were] about business, and that was getting a bad guy off the street… "I congratulated the police… I'm very anti-police, but I'm not against police relations and community relations."
I think he should have said "I thanked the police" as opposed to "I congratulated the police" but then again, what do I know? I'm just an appreciative human being who doesn't hate the people I can turn to for protection.