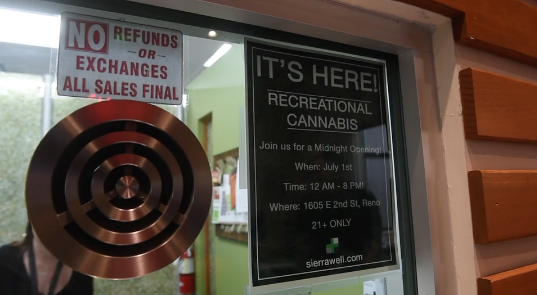 Nevada's governor has endorsed a state of emergency to deal with a shortage of legal marijuana just a week after the state legalized recreational marijuana.
On Friday, the Nevada Department of Taxation revealed Nevada Gov. Brian Sandoval endorsed a "state of emergency" approving "emergency regulations" to combat the shortage of legal marijuana available in the state due to distribution problems.
According to the statement, only 47 stores are licensed to sell marijuana, but "[t]he initial weekend of legal operation of marijuana establishments resulted in well over 40,000 retail transactions and some establishments report sales of more than double their estimates. Additionally, some establishments report the need for delivery within the next several days."
The statement claims that "no wholesale liquor dealer has met the application requirements to receive a marijuana distributor license," the only industry that is currently legally allowed to distribute marijuana.
In an email to the Reno Gazette-Journal, the Nevada Department of Taxation spokeswoman Stephanie Klapstein said, "Based on reports of adult-use marijuana sales already far exceeding the industry's expectations at the state's 47 licensed retail marijuana stores, and the reality that many stores are running out of inventory, the Department must address the lack of distributors immediately. Some establishments report the need for delivery within the next several days."
On July 13, the Nevada Tax Commission will debate changing the licensing rules to open up the pool of applications that can distribute marijuana, after they make a determination of sufficiency.
Klapstein said, "Unless the issue with distributor licensing is resolved quickly, the inability to deliver product to retail stores will result in many of these people losing their jobs and will bring this nascent market to a grinding halt. A halt in this market will lead to a hole in the state's school budget."
Thank you for supporting MRCTV! As a tax-deductible, charitable organization, we rely on the support of our readers to keep us running! Keep MRCTV going with your gift here!