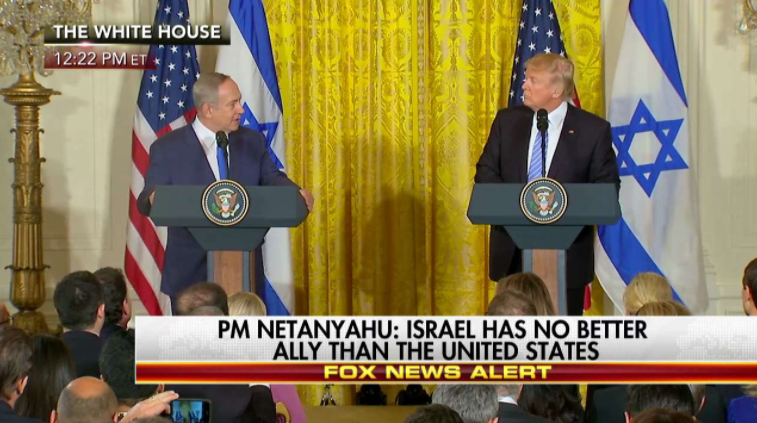 (Image via Twitter)
President Donald Trump and Israeli Prime Minister Benjamin Netanyahu held a joint press conference from the White House on Wednesday.
During Netanyahu's remarks, he discussed how the U.S. and Israel are "under attack by one malevolent force: radical Islamic terror."
He praised President Trump for showing "great clarity and courage" in confronting the threat of radical Islamic terror "head on."
"Mr. President, you've shown great clarity and courage in confronting this challenge head on," said Netanyahu. "You call for confronting Iran's terrorist regime, preventing Iran from realizing this terrible deal into a nuclear arsenal, and you've said the United States is committed to preventing Iran from getting nuclear weapons. You call for the defeat of ISIS…"  
"Under your leadership I believe we can reverse the rising tide of radical Islam," he went on, "and in this great task as in so many others, Israel stands with you, and I stand with you."
The Israeli Prime Minister told President Trump that he looks forward to working with him "to dramatically upgrade our alliance."
"Israel has no better ally than the United States," he said, "and I want to assure you the United States has no better ally than Israel."
President Trump similarly praised Netanyahu during his remarks, calling the Israeli PM his "friend" and the State of Israel "a symbol to the world of resilience in the face of oppression."
He doubled down on his criticism of the Obama administration's Iran nuclear deal, calling it "one of the worst deals I've ever seen."
"The security challenges faced by Israel are enormous" thanks to the Iran deal, said the President.  
"I will do more to prevent Iran from ever developing – I mean ever – a nuclear weapon," said Trump.
Check out a clip from the press conference below.
Thank you for supporting MRCTV! As a tax-deductible, charitable organization, we rely on the support of our readers to keep us running! Keep MRCTV going with your gift here!