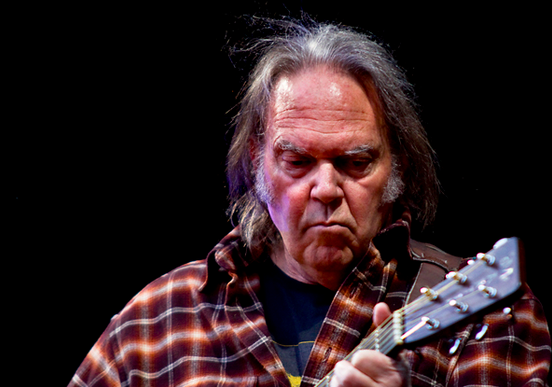 Neil Young, the legendary rock artist who once released an entire album dedicated to criticizing the War on Terror, has made it known he does not want presidential candidate Donald Trump using his iconic anti-Republican song, "Rockin' in the Free World."
While entering his campaign announcement event on Tuesday, Trump was seen on an escalator with Young's tune blaring in the background:
Young's manager, Elliot Roberts, issued a statement to the Los Angeles Times claiming Trump did not obtain permission to use "Rockin' in the Free World":
'Donald Trump was not authorized to use "Rockin' In The Free World" in his presidential candidacy announcement. Neil Young, a Canadian citizen, is a supporter of Bernie Sanders for President of the United States of America.'
Young's manager reported that although the singer is Canadian, he supports Bernie Sanders.
Roberts also revealed to the Los Angeles Times he has requested the Trump campaign no longer use the song in the future.
A spokesperson for the Trump campaign told Rolling Stone the song's license was legally obtained:
'Through a license agreement with [performance-rights organization] ASCAP, Mr. Trump's campaign paid for and obtained the legal right to use Neil Young's recording of 'Rockin' in the Free World' at today's event.'
The spokesperson added,
'Mr. Trump is a huge fan of Neil Young and his music and will continue to be regardless of Neil's political views.'
Rolling Stone notes through ASCAP's guidelines covering political campaign music, a musician can still sue a politician for using his music - even if the appropriate license is obtained - if the artists feels the association between the campaign and the music is creating a "false endorsement" or hurting the artist's image.
Although it is often considered to be an all-American anthem, the "Rockin' in the Free World" tune is a critique of former President George H.W. Bush's administration and Republican policies.
The song lyrics directly attack Bush's "thousand points of light" and "kinder and gentler nation" statements about the importance of compassion by placing it in the context of a homeless man who cannot find the proper assistance.
In addition to the explicit reference to Bush's views, the song also tells the tale of a drug-addicted mother who abandons her child and criticizes the consumerism that creates "Styrofoam boxes for the ozone layer" and "fuel to burn" for "roads to drive."