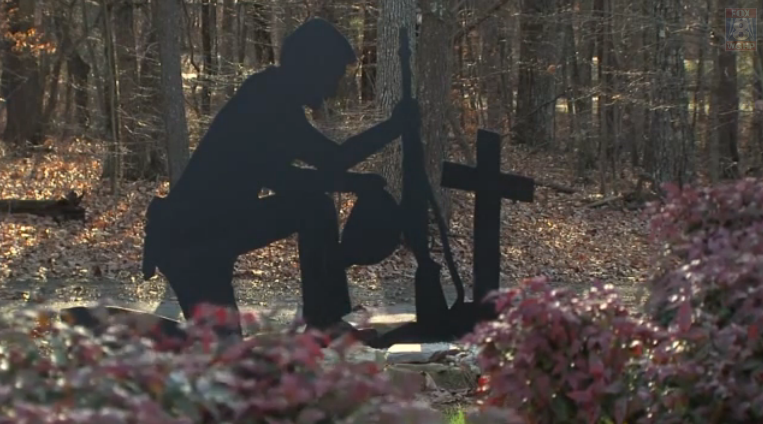 After a two-year legal battle, the city of King, N.C. voted Tuesday to remove a Christian flag and a statue of a soldier kneeling before a cross from a local veterans' memorial.

King council members voted 3-2 to approve a settlement agreement between the city and Steven Hewett, a U.S. Army veteran who sued King in November 2012 for allegedly violating his constitutional rights.
Americans United for Separation of Church and State filed the federal lawsuit on Hewett's behalf, accusing the city of promoting Christianity at one of its public parks.

Americans United argued that the statue "treats only Christians as patriotic Americans—and treats others—including decorated veterans like Mr. Hewett—as second class citizens."
According to a local newspaper, "King had already incurred more than $50,000 in legal fees and costs and estimated that litigation costs would have approached $2 million, exceeding the city's $1 million insurance coverage."
"While the Council did not wish to settle the case," a press release read, "the financial implications to the city were such that it was not reasonable or responsible to burden the city's taxpayers with tax increases to fund a defense to Mr. Hewett's lawsuit."
Those who favored the settlement said that the small city and taxpayers could not bear the high costs of litigation and had been advised by legal counsel that the city had no real assurance of winning.
City councilmen Dillard Burnette and Charles Allen defended their votes in favor of removing the flag and statue:
"When you have a judge and lawyers telling you that you can't win this case," Burnette said, "shake your head all you want but we can't win."
"I can't put that financial burden on the city," Allen said. "I'm not voting my conscience but on financial sense."
Council members Wesley Carter and Brian Carico had voted against the settlement, but conceded no hard feelings toward the other gentlemen given the circumstances at hand.
"But I do feel that this city has been sabotaged and has been bullied by folks that don't believe what this community stands for," Carter said.
Others were not as agreeable.
"This country was born, came up on freedom of religion or freedom of speech," U.S. military veteran Jack Westmoreland told Fox News. "Well one person has taken that away from us."
Mayor Jack Warren provided the decisive vote.