The radical left isn't hiding their own agendas anymore. They seem to not really care if what they do is deemed extremely hypocritical by anyone with a rational brain's standards. They are committed to creating the world in their own image to the detriment of humanity. ALL racism is bad, even against white people.
New York Times media columnist Ben Smith tweeted out an internal memo on Thursday from Chairman of NBC Universal News Group Cesar Conde that was sent out to employees. In the memo, Conde talks about the implementation of a new program NBC Universal will be undertaking, called the Fifty Percent Challenge Initiative.
According to the memo:
Today, I want to share with you the details of our Fifty Percent Challenge Initiative. As you know, the pace of demographic change in America is accelerating. As a news organization we have a unique responsibility to reflect the country and all of the communities we serve. Simply put, we aspire to achieve two concrete goals: that 50% of our News organization employees be women and 50% of our total workforce be people of color.
Is it just me, or does that sound very much like Conde and NBC Universal are discriminating against white males? It doesn't matter what color you are, the best person for each individual job should get hired for that specific position.
Apparently, that's not how it works anymore — at least at NBC Universal's news division.
Here's the memo in its entirety:
Some respondents on Twitter pointed out the hypocrisy of the memo: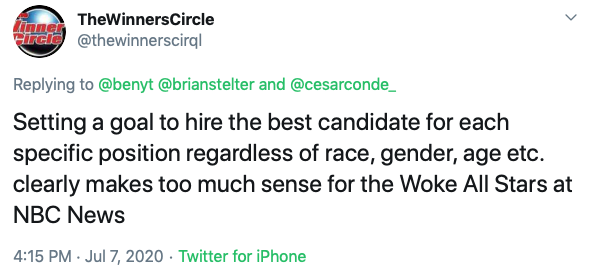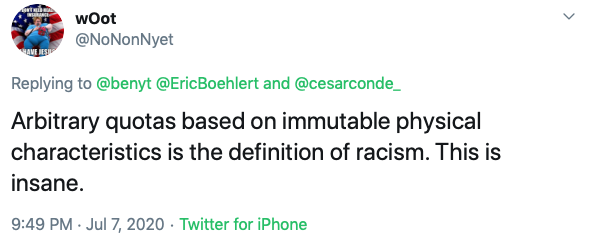 I just wonder how those on the left don't see — no matter how simply you explain it to them — that some of their actions and comments are the definition of racism, all while saying they're trying to combat what they perceive as racist.
H/T: The Blaze