NBC reporters sparked a wildfire of all-out conspiracy theories on left-wing social media after reporting President Donald Trump and Supreme Court Justice Anthony Kennedy had conspired to pick Kennedy's replacement well before the 81-year-old justice announced his retirement -- claims that ended up being totally bogus.
NBC Capitol Hill reporter Leigh Ann Caldwell tweeted Tuesday – without giving proof or citing her source – that Trump and Kennedy had "been in negotiations for months over Kennedy's replacement, " adding that only after Kennedy had been assured the replacement would be his own former law clerk, Brett Kavanaugh, did he feel comfortable retiring.
Caldwell then tweeted that several other SCOTUS nominees Trump had floated to replace Kennedy were simply "cover" for Kavanaugh.
"In other words: the decision has been baked for a while," she alleged.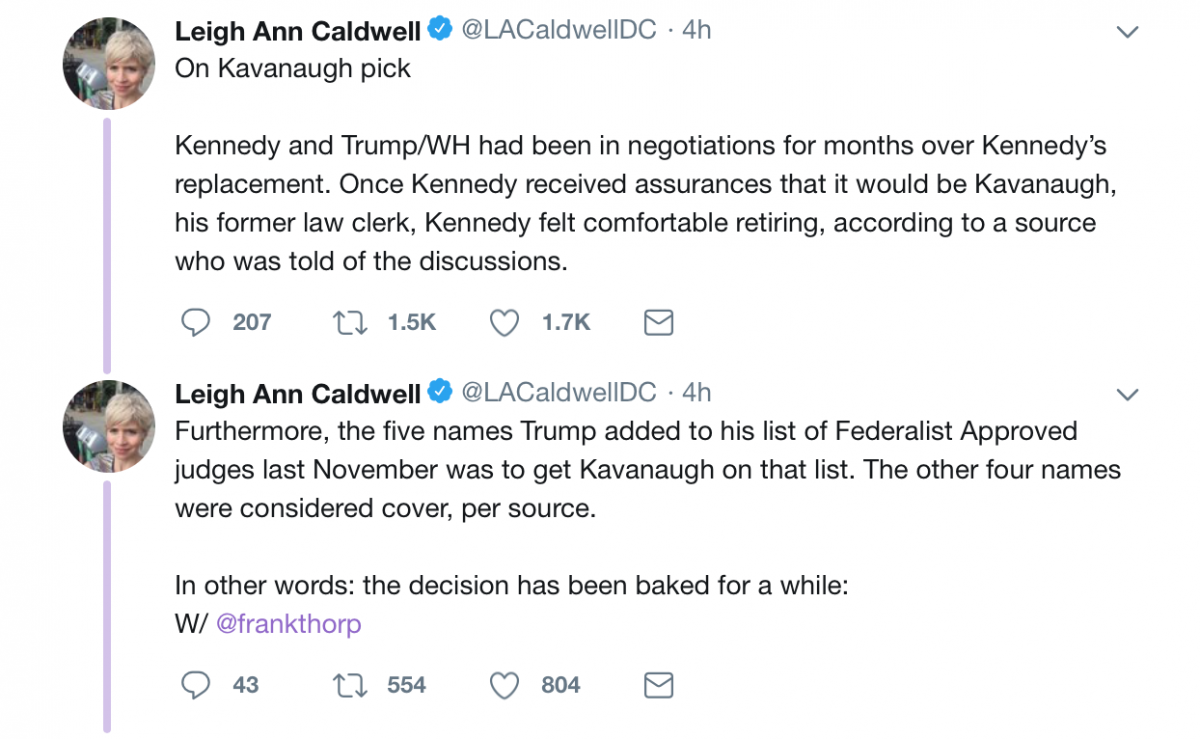 NBC White House correspondent Geoff Bennett also reported the rumor as fact, tweeting: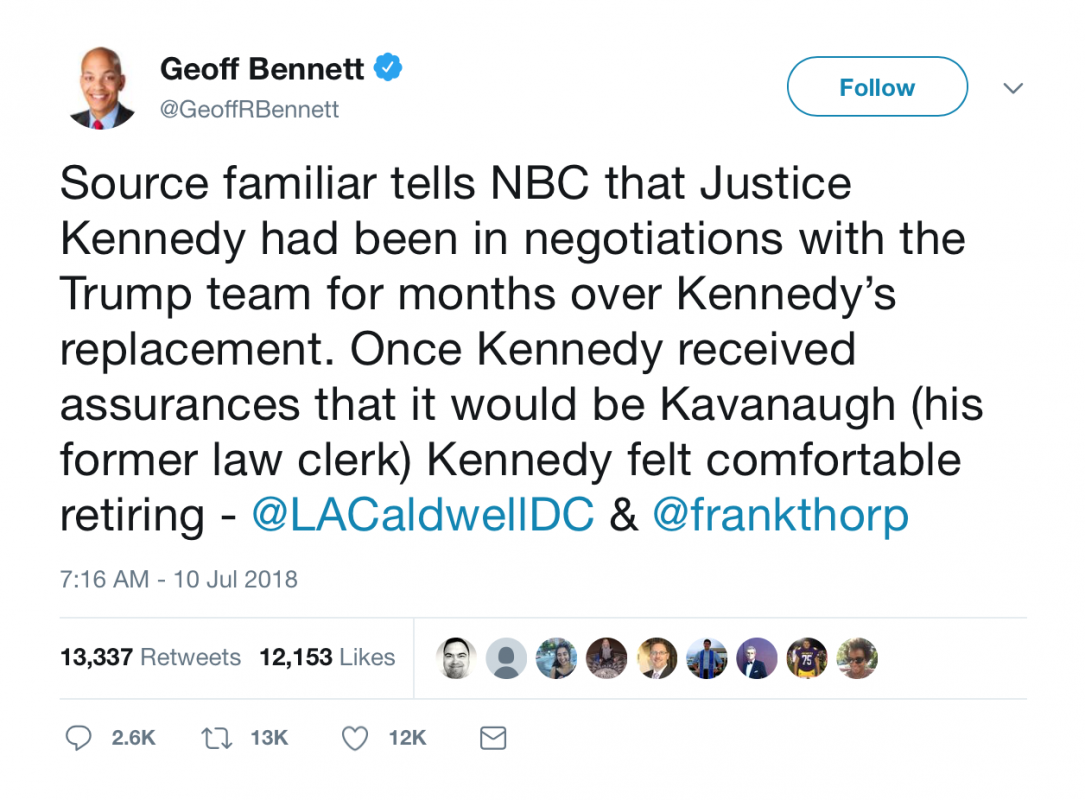 The tweets launched a firestorm on the left, who immediately accused Trump and Kennedy of conspiring to pack the Court and called for an investigation into the matter.
 
Smells like obstruction of justice to me. No wonder Mueller is taking so long. SO many crimes. So few hours in a day.

— Peewee 🌊 (@PamelaJacobson2) July 10, 2018
I knew Kennedy's resignation was shady af.

— Secret Derp State Society 🌊🗽🇺🇸 (@TurtlesgaloreMR) July 10, 2018
We're going to need a bigger prison.

— BSam (@BSam2424) July 10, 2018
There's just one major problem: neither Caldwell nor Bennett had any proof that their "reports" were true – an admission Caldwell ended up having to make...but not before her tweet had spawned countless conspiracy theories on the left.
"To be clear: This is from one source and don't (sic)I have any info on whether potus (sic.) talked to kennedy (sic.) about a possible replacement," she admitted.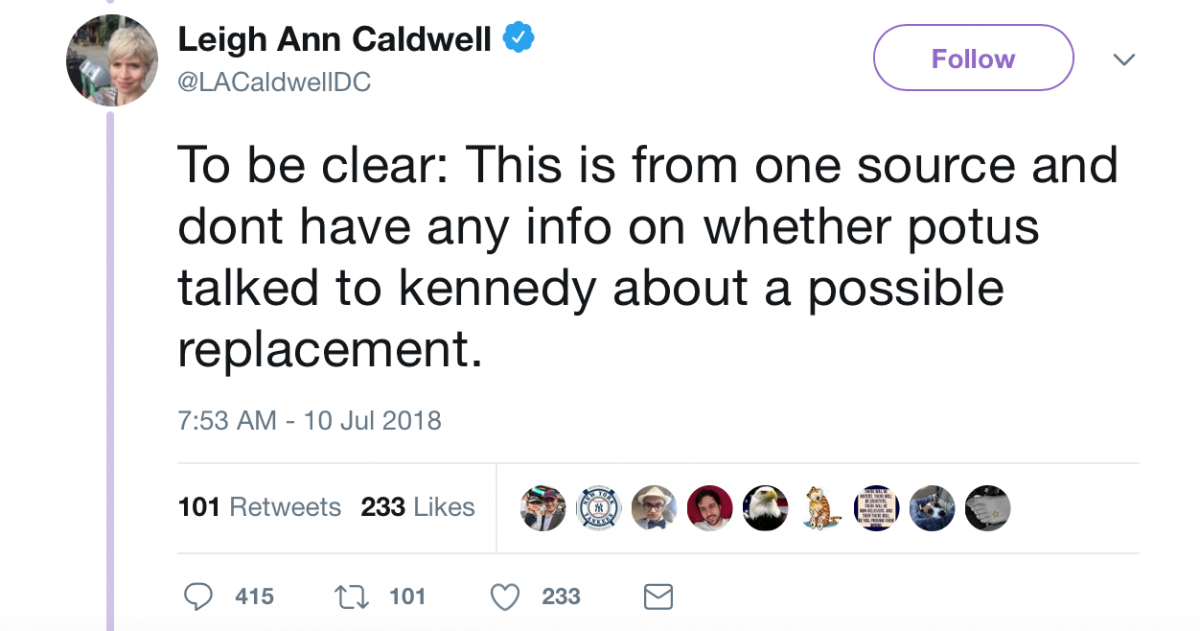 The official Twitter account for the Supreme Court immediately slammed the claims as "almost certainly false."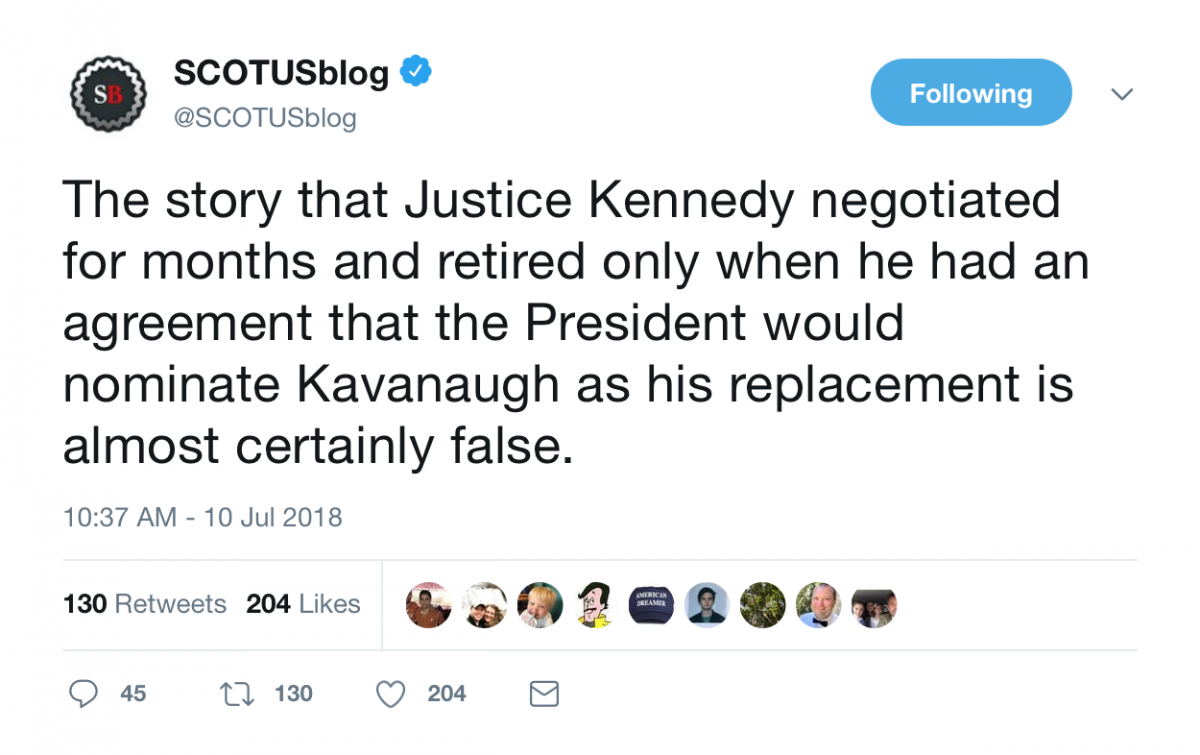 Caldwell later deleted her original tweet, backhandedly confessing there's a good chance it was flat-out wrong.
 
I've deleted this tweet because it incorrectly implies a transactional nature in Kennedy's replacement. I am told by a source who was not directly part of the talks that Kennedy provided Pres. Trump/ WH a list of acceptable replacements. (1/2) pic.twitter.com/ptxJmrbH9S

— Leigh Ann Caldwell (@LACaldwellDC) July 10, 2018

At best, this is a gross mishandling of journalistic ethics and a sorry excuse for "reporting." At worst, it's an attempt to maliciously smear Trump, Kennedy and Kavanaugh with unfounded rumors.
Either way, NBC certainly isn't helping their own reputation as shameless peddlers of fake news.
Sponsored Links