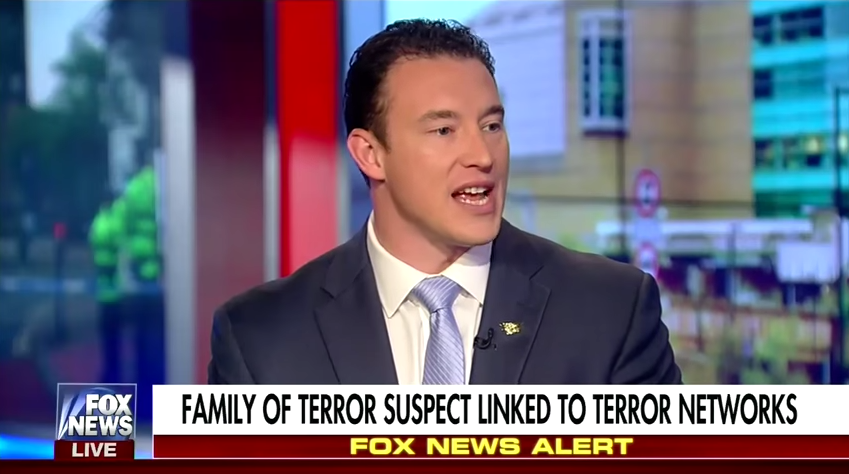 (Image via Screenshot)
This former Navy SEAL has three choice words for pop singer and outspoken liberal Katy Perry:
"Go to hell."
Carl Higbie in a Thursday interview on Fox News criticized Perry for her remarks following the deadly Manchester terror attack that left 22 people dead and 59 injured, including children. 
"Whatever we say behind people's backs, the Internet can be a little bit ruthless as far as fan bases go but I think that the greatest thing we can do is just unite and love on each other," Perry said during a Tuesday interview with Elvis Duran and the Morning Show. "No barriers, no borders, we all just need to coexist," she added.
In response to her call for "no barriers, no borders," Higbie said that Perry should hold one of her concerts in Syria and see how they respond to American culture.
"You have people like Katy Perry, for instance. This woman has said we need to hug it out. Go to hell, Katy Perry," he said. "Hold one of your concerts in Syria. These people don't understand what's going on here..."
Amid a firestorm of criticism for her remarks, Perry took to Twitter to defend herself.
She said that the media took her comments "out of context," and that she only meant that people online regardless of "borders" or "barriers" should "unite" and be kind to one another.
Perry added that "maybe [I] didn't say it perfectly, but I don't always get it right."
Thank you for supporting MRCTV! As a tax-deductible, charitable organization, we rely on the support of our readers to keep us running! Keep MRCTV going with your gift here!