In response to last weekend's mass shooting in Las Vegas, 'These Boots Are Made For Walkin'" singer Nancy Sinatra on Wednesday openly called for the roughly 5 million members of the National Rifle Association to be executed, thus proving why many Americans adamantly cling to their right to own firearms for self-defense.
In a now-deleted tweet dripping with sanctimonious hypocrisy, the eldest daughter of O' Blue Eyes blasted out on Twitter: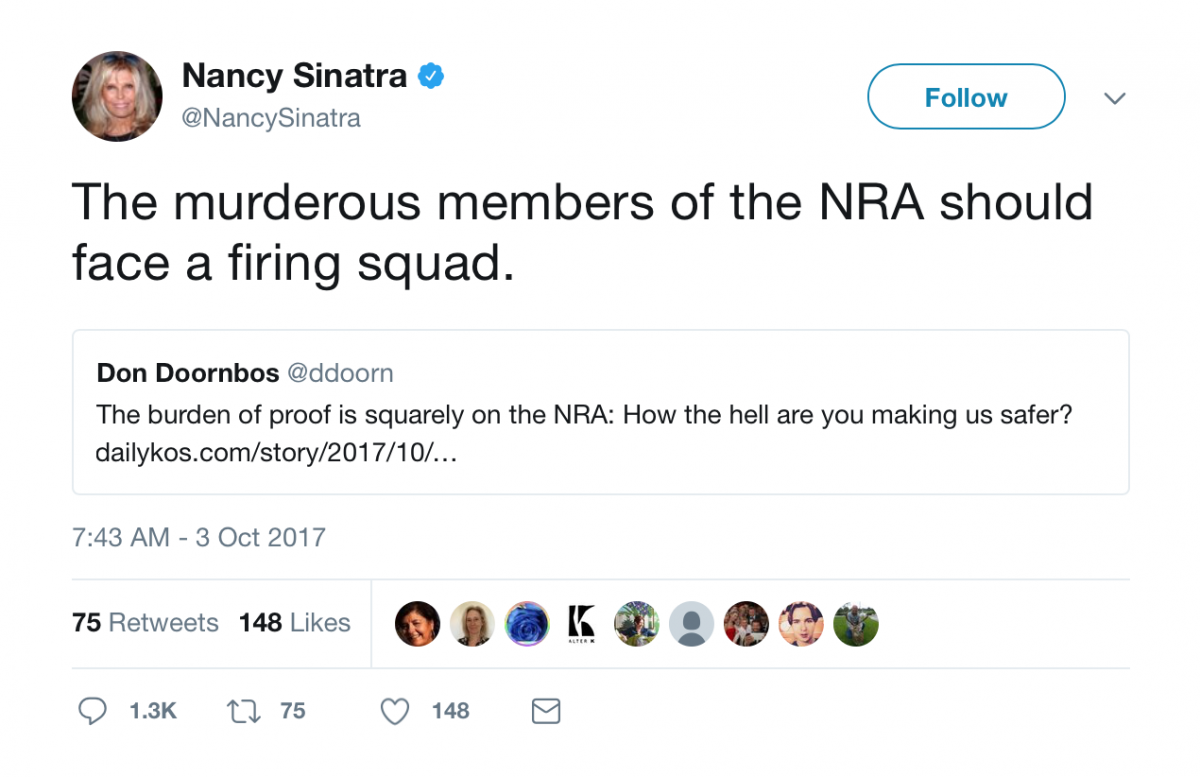 In case you're a logical person and had trouble reading that correctly, I'll translate: Nancy Sinatra wants to stop gun violence against innocent, law-abiding people by shooting innocent, law-abiding people.
And boy, were people quick to respond to that pile of verbal vomit:
You need serious mental health help.

— Kimberly Morin (@Conservativeind) October 5, 2017
How are you saving lives by advocating that citizens with opposing viewpoints should be murdered with no due process? Get over yourself

— reggaemuffin (@reggaemuffin1) October 5, 2017
And then we can execute other people who support rights guaranteed by Amendments. Like those pesky free speech rights

— Jephyr - Jephyr X (@Jephyr) October 5, 2017
addressing gun violence with gun violence 🙄 you don't see the glaring hypocrisy there?that's some serious Archie Bunker logic now stifle

— splatford (@splatford) October 5, 2017
Let's follow your logic darlin! You're upset about gun violence,but want to use gun violence to kill people u r mad at! 😂#Hollyweird #logic👍

— WRHCD (@WilliamRHCD) October 5, 2017
Thank you @NancySinatra for representing the violent left so well and reminding us why we need the right to protect ourselves! Good job!

— Lilly Angelo (@LillianaAngelo) October 5, 2017
So your answer to gun violence is to advocate gun violence? How inane is that.

— Detroit Titan Up (@DetTitanUp) October 5, 2017
Even a few non-NRA members and those who don't own guns pointed out Sinatra's tweet was vile and borderline psychopathic.
I hate guns but saying NRA is responsible for people's crazy behavior is ridiculous 🤦🏻♀️

— Liz (@howcaniNOT) October 5, 2017
You're violence is noted! Tweeting something vile. I'm not even a gun person but I don't generalize about every 1 who has a gun as murderous

— staunch 🗽🇺🇸🐾 (@JoniePEI) October 5, 2017
Ironically, Sinatra purports to be an activist with the anti-Trump "resistance," a movement known for calling President Donald Trump a fascist and allegedly fighting "hate speech" against innocent people.
But apparently, spewing hate speech and calling for the government-sanctioned execution of millions of law-abiding Americans is perfectly ok and not, in fact, fascist – if you're a liberal.
Sponsored Links