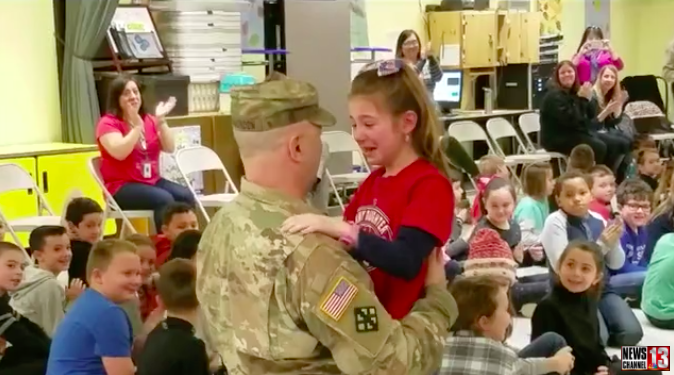 Image via Screenshot
A soldier on return from deployment surprised his 7-year-old daughter at school after being gone for nearly a year.
Natalie Plamondon was attending morning program at Okte Elementary School in Clifton Park, New York, on Tuesday, reports local station WYNT.
She was first surprised by her mother who showed up as the morning's mystery reader. She and her mother read the children's book "Hero Dad" to her classmates.
"My dad is an American soldier. My dad is my hero, my superhero," Natalie read aloud.
When the story was over, her very own "hero dad," Lieutenant Colonel Jean-Paul Plamondon, walked into the room.
Natalie took a moment as if in disbelief, then yelled out "daddy" as she ran across the room to give him a huge hug.
An Army reservist, Lieutenant Colonel Jean-Paul Plamondon deployed to Kuwait last February when his daughter Natalie was 6 years old.
Much to Natalie's surprise, her dad came home earlier than expected.
"I thought it was gonna be January 31st. So, when I saw him, I thought he was somebody else but then when I realized it was daddy, I just wanted to run and hug him," Natalie said in an interview with "Fox & Friends" Thursday morning.
Natalie's dad and mom coordinated with the elementary school to carry out the surprise.
Her dad said he's been on deployments before and wanted this return home to be special.
Check out the heartwarming moment below.
Warning: You may tear up.