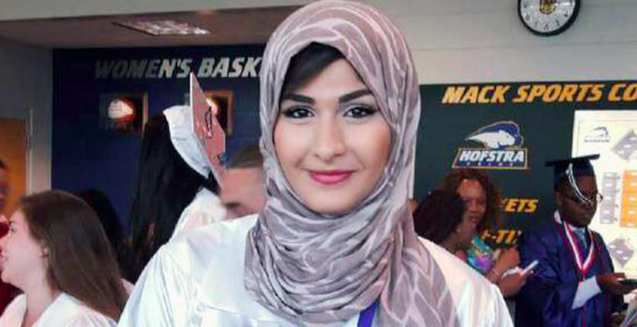 (Image source: NYPD)
Yet another piece of the narrative about an epidemic of hate crimes against Muslims has fallen apart.
The New York Daily News has revealed the 18-year-old Muslim Baruch College student who claimed three white men attacked her on Dec. 1 while screaming "DONALD TRUMP" made up the entire story so her parents wouldn't punish her for missing her curfew because she was out drinking.
Yasmin Seweid repeatedly lied to the police, telling them she was attacked on the No. 6 train.
"She had numerous opportunities to admit nothing happened and she kept sticking by her story," police said.
Seweid even posted on her Facebook about the attack that never happened, writing, "I was harassed on the subway last night. And it was just so dehumanizing I can't speak about it without getting emotional."
On Wednesday, Seweid was arrested over her false statements to police.
She allegedly told police, "Nothing happened, and there was no victim."
This comes after a viral campaign brought attention to the fact that Seweid "mysteriously" went missing.
The New York Daily News reports Seweid's parents, who were upset over the incident and upset over their daughter dating a Christian, forced her to shave her head before she appeared in court on Thursday.
Seweid faces more than a year in jail for making up her hate crime hoax.
Seweid's brother also was charged with a filing a false police report in 2012.
This is far from the first time a story about a Muslim being attacked after Trump's win has turned out to be a hoax. Another Muslim college student also claimed she was attacked by Trump supporters who ripped off her hijab - before, ultimately, admitting the entire story was a lie.
Thank you for supporting MRCTV! As a tax-deductible, charitable organization, we rely on the support of our readers to keep us running! Keep MRCTV going with your gift here!