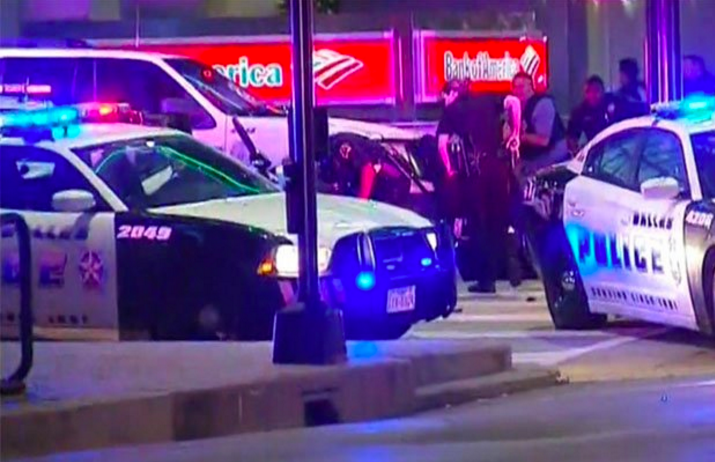 (Image via Twitter)
8:30 AM EST - Five officers in Dallas have been shot dead, seven injured, as three suspects have been taken into custody. A fourth suspect has been confirmed dead after a standoff with law enforcement. 
The dead gunman has been identified by police as Micah Xavier Johnson, 25, of Mesquite, Texas. He served in the U.S. Army Reserve and had no criminal record. 
12:33 AM EST - Both suspects are now in custody according to the Dallas Police Department.
One suspect turned himself in while another suspect was secured by SWAT following a shoot-out. 
The Dallas Police Department's bomb squad is securing a "suspicious package" discovered near the cornered suspect's location.
12:15 AM EST - Dallas Police Chief David Brown told reporters at a press conference that 11 officers were shot by two snipers from an elevated position.
Brown added that "the suspects have threatened to plant a bomb" downtown and that the ATF and FBI are searching the area for explosives. 
The Dallas Police Department posted on Twitter at 12:13 PM EST that one more officer has passed away, a total of four Dallas police officers killed from the shootings. 
12:09 AM EST - The Dallas Police Department confirmed that three police officers have been killed, three are in critical condition, and two are in surgery. 
One suspect has since been cornered. The Dallas Police Department tweeted out of an image of the other suspect who remains at large. 
11:39 PM EST - Ten Dallas police officers have been shot, three fatally, in what appears to be a planned ambush by two snipers, reports NBC News.
Dallas Area Rapid Transit (DART) confirmed that four of their officers were shot, one killed. 
DART has suspended all bus and rail service downtown "due to criminal activity."
11:22 PM EST - Multiple officers were shot at a "Black Lives Matter" protest in downtown Dallas Thursday afternoon, reports FOX 4 News.  
"Police sources tell FOX 4 one suspect is down while a second possible suspect is in a downtown Dallas garage and wearing a bulletproof vest and tactical gear," writes the local station. "A police source says at least 3 - 6 officers have been shot. Their conditions are not known."
"The shooting happened just before 9 p.m. as the protestors were marching near Lamar and Main St."
The situation is ongoing. SWAT officers are currently on the scene.
Locals have been advised to avoid downtown Dallas.
The rally formed in the wake of the shooting deaths of Alton Sterling and Philando Castile by police officers. 
MRCTV will update this post as more information is provided.