I'm not sure when "comedy" turned into "say the most vile thing you can think of about Trump and pretend it's funny," but it seems today's comedians are trying to one-up each other on who can sink the lowest.
MTV actress and stand-up "comedian" Rasika Mathur responded to news of Anthony Bourdain's suicide, saying she wished it had been President Trump who'd taken his own life instead of the 61-year-old travel show host.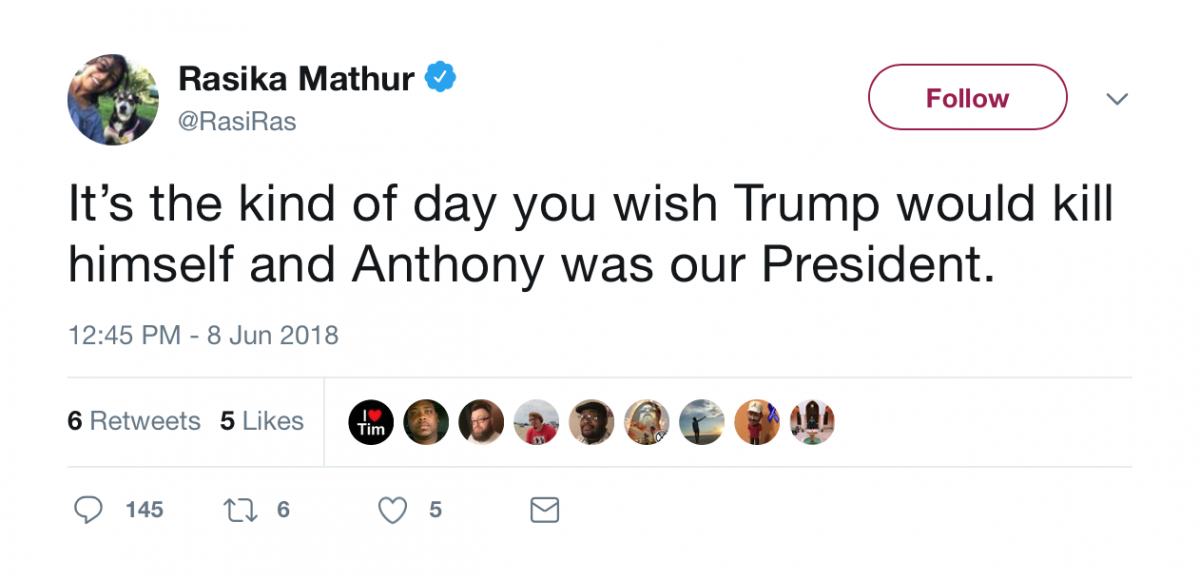 If you don't know who Mathur is, don't worry, neither does anyone else. But she does have a recurring role on MTV's show Wild 'N Out, hosted by Nick Cannon – a show she's unlikely to be booted from, even for suggesting that the president off himself to cap off a week marked by two high-profile suicides. She's also verified on Twitter, and will in all likelihood remain so.
But regardless of whether Twitter or MTV notice Mathur's hate-spewing, other users sure did.
You're sick. This is why there is such division. You feel this type of hatred is justified. Bad example to set. This hatred will lead to more suicides and tragic events. As a whole we need to kick the habit of being so angry and filled with hatred. It's not ok.

— Joe (@Joe__Byrnes) June 8, 2018
The hatred in your heart is disturbing. Seek help.

— Marcus Smith (@HitEmWith4) June 8, 2018
I don't know you, but jokes about suicide are never appropriate.

— Alli Temnick (@allisontemnick) June 8, 2018
Such a loving heart you have...

— Geri Weinberger (@GeriN06) June 8, 2018
What a shame when ppl seize every opportunity to continue the Anti-Trump non-sense.

— Luis Savery 💯 (@Luis_Savery) June 8, 2018
Evil much?

— Nancy 'MS-13' Pelosi (@notalemming) June 8, 2018
What a horribly sad and demented pathetic little idiot life you must live to say something as shallow and disturbing as this. What a fantastic role model you are to friends and family and followers. Wishing death on another human being. You should seek some help. Fast!

— Ian (@politics_news__) June 8, 2018

It seems some people never pass up the chance to sink even lower - even if it means joking about suicide.