Well, this is awkward. Actual journalism being practiced by a reporter shouldn't be all that surprising, but with the current state of the media it's kind of jaw-dropping when someone at a major outlet tells the truth — so much so that the lid was blown off the media narrative on the migrant "caravan."
On Monday, MSNBC's Stephanie Ruhle went on a mini-rant while attempting to ask MSNBC correspondent Gadi Schwartz, who's currently in Tijuana covering the "caravan" story, what the truth on the ground is about the demographics of the migrant shelter.
To his credit, Schwartz gave the absolute truth as to what he'd seen so far:
You have people on one side that point and say, 'There are women and children here,' and that is true. Then there are others who point and say, 'These are men trying to cross the border,' and that's true, too. From what we've seen, the majority actually are men. Some of these men have not articulated the need for asylum. Instead, they've talked about going to the United States for a better life and to find work.
Wait - this is the same MSNBC, right? How did they let Schwartz on the air? He should know better than to tell the truth.
Schwartz apparently wasn't done doling out heaping helpings of truth, as he took to Twitter to give people a numerical, demographical breakdown of the migrant shelter: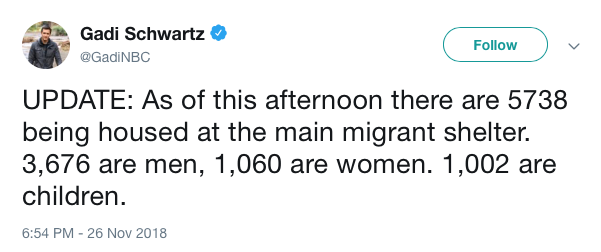 For those playing the home game, Schwartz's numbers equate to the shelter being primarily comprised of men — a whopping 64 percent! Women make up 18.5 percent, while the percentage of children at the shelter comes out to 17.5 percent.
Now that reports of the true demographical identity of the shelter are beginning to come to light in the media, how long do you think it'll take before the media changes the narrative? I mean, they've been pushing the "women and children" since the "caravan" began their trek to the U.S. border.
For Schwartz full report from Monday, watch below: