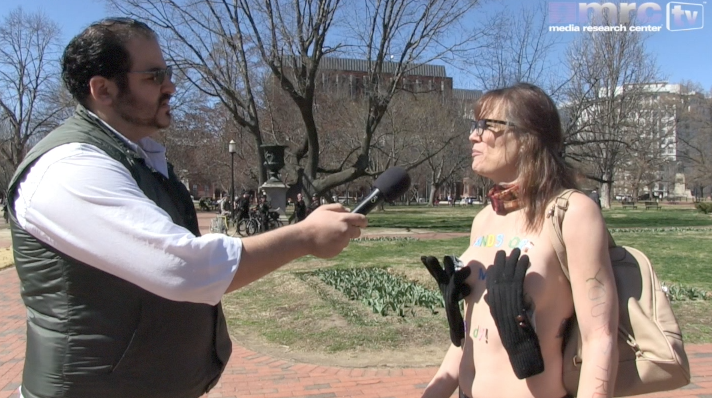 Oh, boy! I mean man! Wait, it's March 8th. Oh, woman???
Feminists descended upon Washington D.C. Wednesday in order to voice their displeasure, and straight up hatred, of President Donald Trump. They did so clad in red, or in some cases gloves and little else, for International Women's Day.
The original National Women's Day came in 1909, and it was brought forth by the Socialist Party of America.
A rally was held in Lafayette Park, right in front of the White House as part of their "Resist Trump/"Stop the Gag" protest/women's strike.
I wasn't aware Trump was "irresistible," but I digress.
Here is the synopsis of the Global Gag Rule, according to the liberal rag, Bustle:
It's a policy that prohibits non-U.S. organizations that receive U.S. funding from providing, referring, or even mentioning abortion services. Trump's Global Gag Rule applies to all U.S. global health assistance.[...]It is not just limited to abortion services, but also basic health care for millions of people worldwide.
The president of the National Organization for Women, Terry O'Neill, at one point said that because of this gag order women will have a tough time fighting the Zika virus.
"That's why they try to keep us down," O'Neill then said the following to people gathered for the rally, "because we challenge their power and we do it better!"
Who is keeping women down? It must have been the federal government, who back in January granted the permits for half a million women to march for rights that they think they don't have.
Another woman that we talked to, who literally only wore strategically placed gloves, wore a sign on her lower back claiming Trump is crazy. Since I never caught her name, let's call her "Mittens." Mittens then claimed that she had to flee the country and go to Europe because of how upset she was after last November's election.
A Muslim woman wearing a hijab walked around holding a sign that read, "Get Your Hands Off My Uterus." She should've probably told that to those in her faith that ascribe to Sharia Law. You know, people that actually believe in female genital mutilation.
We also talked to a masked woman who, when I brought up how Hillary Clinton, when she was a New York Senator from 2002-2008, paid her female staff 72 cents on the dollar to what she paid her male staffers, decided that our conversation wasn't worth having.
That darn truth keeps getting in the way all the time.
The masked did say before she departed that we constantly forget about "half of our species."
That's true, and today they're called men.
For MRCTV's coverage of the event, watch below:
Thank you for supporting MRCTV! As a tax-deductible, charitable organization, we rely on the support of our readers to keep us running! Keep MRCTV going with your gift here!