In the wake of the deadly radical Islamic terror attack at Pulse Nightclub in Orlando, Fla., the media did not waste any time in doing what they do best: politicize a tragedy.
Fifteen years ago when other radical Islamic terrorists carried out the attacks of Sept. 11, 2001, while people wanted answers as to what had happened, they were also allowed to grieve for an extended period of time.
There was some politicization, but there was also a groundswell to unify as Americans. That seemingly has not been the case in June 2016.
MRCTV recently conducted a poll on Facebook asking people what the primary focus of the media has been throughout this terribly sad time in American history.
MRCTV gave people three options from which to choose from:
The need for stricter gun control laws
The fact that a gay bar was targeted by the shooter
The connections between the shooter and radical Islamic terrorists in the Middle East
There were 296 people polled. The results were astounding and resounding, as 85.1% said the media have been primarily focused on gun control: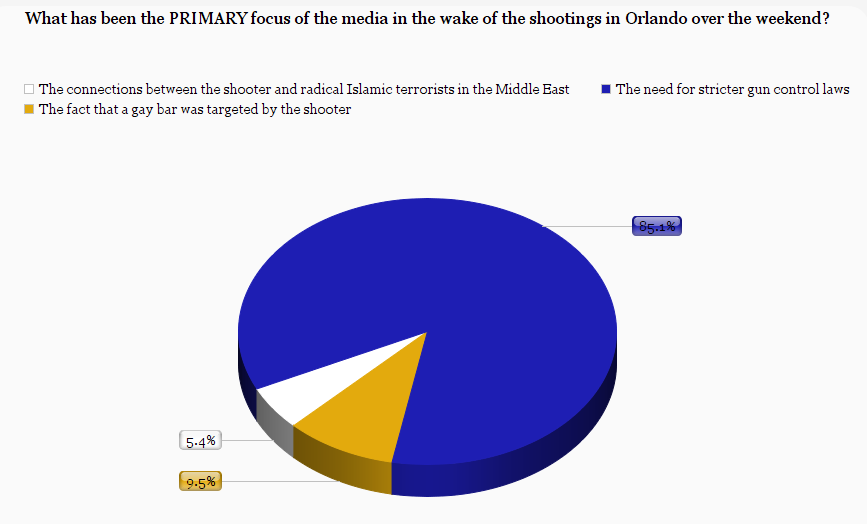 There is one option that was not a part of the poll, and that is probably because the media has ignored it…grieving as a nation.
We are in a sad state of affairs when mourning the dead takes a backseat to possible legislation, because of an administration whose ideology can be summed up in nine words: The fundamental transformation of the United States of America.