Media Research Center President Brent Bozell discussed the use of taxpayer funds for National Public Radio with Radio Show host Mark Levin on Monday.
"The left has been trying to get left wing stations going and spokesmen going every single way," Bozell told Levin. "Al Franken on Air America. Jim Hightower got one more. Mario Cuomo got one. Our favorite fellows, Joe Scarborough and Mika Brzezinski also got one. Every single one of them failed because there wasn't a market demand for them. So what did they do? They take it from the federal government and let the American tax taxpayer be forced to pay to have left wing radio."
"This is absolutely ludicrous," Bozell said. "Look, the president tried something and then this is very, very unfortunate. The president came out with his first budget deal when he took office where he talked about getting rid of 62 wasteful government programs. One of them was the Corporation for Public Broadcasting, which is the umbrella over which NPR gets their funding. Unfortunately, not only was it not defunded, but thanks to the United States Congress, it receives 465 million dollars. That's a 20 million dollar increase. And it's even worse than that. It's slated through 2022. They decided we're going to give advance funding to NPR."
President Donald Trump questioned why NPR exists following Secretary of State Mike Pompeo's clash with one of the organizations reporters.
The president on Sunday retweeted Levin's tweet that asked, "Why does NPR still exist?"
"A very good question!" Trump posted with Levin's tweet.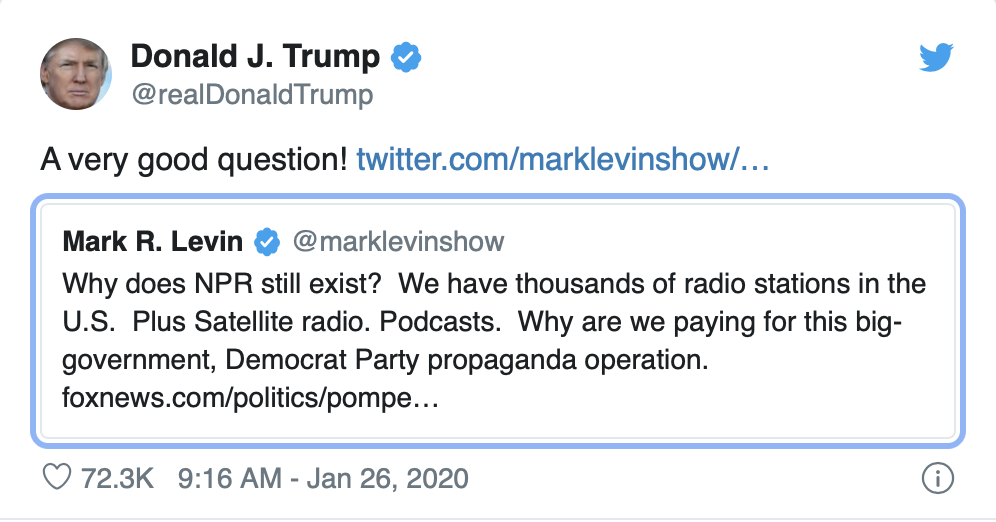 MRCTV is a division of the Media Research Center.