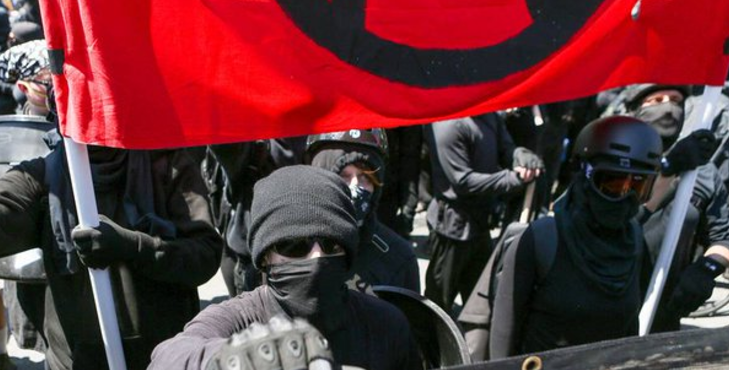 Image via Twitter
Most Americans view Antifa as troublemakers looking to cause a public disturbance, a new Rasmussen poll reveals.
According to the poll, a majority of voters (58 percent) view the protesters unfavorably, including 40 percent who have a "very unfavorable" opinion of them.
Just 24 percent view Antifa favorably as a legitimate political movement, with eight percent who have a "very favorable" opinion of the protesters.
Eighteen percent (18%) poll undecided.
Antifa or so-called "anti-fascist" protesters claim to be a political movement. They gained national attention after Antifa protesters clashed with white supremacists protesting the removal of a Confederate statue in Charlottesville, Va., in August.
President Trump condemned Antifa as well as the white supremacists for the violence that took place at the rally, for which he received a great deal of criticism.
Trump has since defended his condemnation of both sides because of the violent tactics Antifa protesters have continued to use, most recently demonstrated in the protests that took place in St. Louis, Mo., over the weekend.
Leaders of the group claim that violence is necessary to fight against authoritarianism. 
Many have called for Antifa to be designated a domestic terrorist organization.
The Rasmussen survey was conducted on September 14 and 17 and has a margin sampling error of three percentage points.
Thank you for supporting MRCTV! As a tax-deductible, charitable organization, we rely on the support of our readers to keep us running! Keep MRCTV going with your gift here!