After the tragic events of El Paso, TX, and Dayton, OH many took to social media and the airwaves to perpetuate the myth that the U.S. leads the world in mass shootings.
When factoring in gun deaths per capita, homicide rates, and gun ownership rates compared to gun homicide rates  - the U.S. is much safer than a plethora of other developed countries, according to a study by the Crime Prevention Research Center. 
The Crime Prevention Research Center had compiled a study of mass shooting deaths from 2009-2015. The study showed that when it came to the annual death rate by mass shootings, the U.S. ranked 11th when it came to developed nations.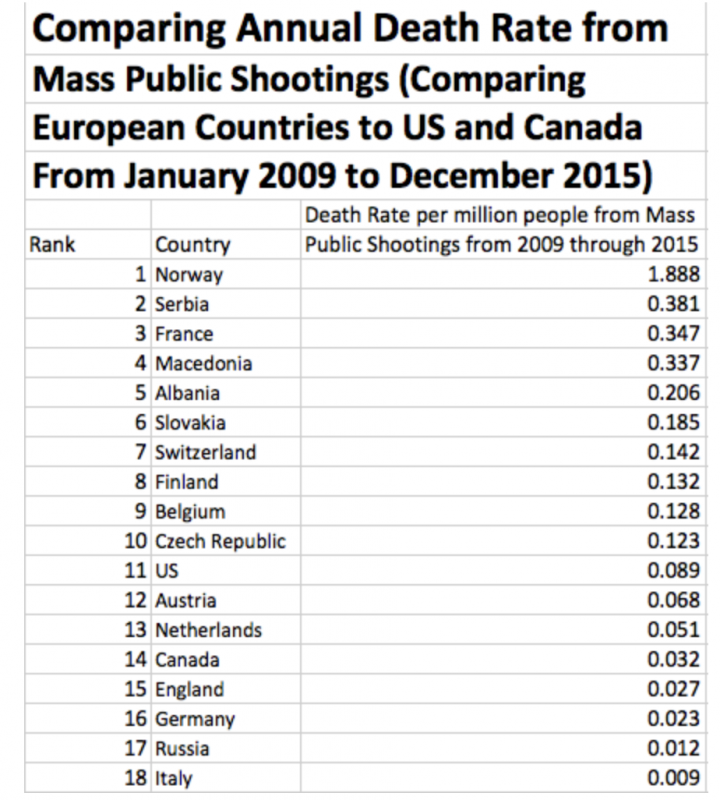 The CPRC took gun ownership and compared it to gun deaths, showing that places with fewer guns than the U.S. still had more murders, disproving the popular myth that more guns equal more gun deaths.
The organization claims that a botched study published in 2016 reported that from 1966 to 2012, there were 90 public mass shooters in the United States and 202 in the rest of world. They claim this study was deeply flawed but widely reported and spread the misinformation on US shootings.
MRCTV Reader,
The liberal media are terrified of the truth, especially when it leads to uncomfortable questions about their own leftist worldview.
MRCTV is the multimedia division of MRC featuring original content and aggregated videos of the news, people, and events conservatives care about.
MRCTV relies on the support of our loyal readers (and video viewers) to keep providing the news and commentary that matter to the American people, not just stories that prop up the liberal agenda.
Make a donation today. Just $15 a month would make a tremendous impact and enable us to keeping shining the light where the liberal media are afraid to tread.
— The MRCTV Team
DONATE
Connect
Sign up for our MRCTV newsletter to receive the latest news.
Sponsored Links