After years of turmoil in one of the most oil-rich countries in the world, the people of Venezuela could be on the precipice of freedom from the oppressive shackles of socialism.
Reports are coming out that the U.S.-recognized president of Venezuela, Juan Guaido, has called for a "military uprising," Operación Libertad, to once and for all remove socialist dictator Nicolas Maduro from any semblance of power of the Venezuelan people.
"The moment is now," Guaido said.
According to Fox News:
Emboldened crowds took to the streets of Caracas after the 35-year-old lawmaker and a small contingent of heavily armed soldiers appeared in an early morning video showing him promoting the "final phase" of his putsch to oust Maduro[…]

The actions by the opposition are Guaido's boldest effort to convince the military to rise up against Maduro.
Guaido sent out words of encouragement to the Venezuelan people concerning the actions being taken to oust the Maduro regime from power.
"The armed forces have taken the right decision," Guaido said. "With the support of the Venezuelan people and the backing of our constitution, they are on the right side of history."
U.S. Secretary of State Mike Pompeo tweeted out the full support of the U.S. government for Guaido and the Venezuelan people: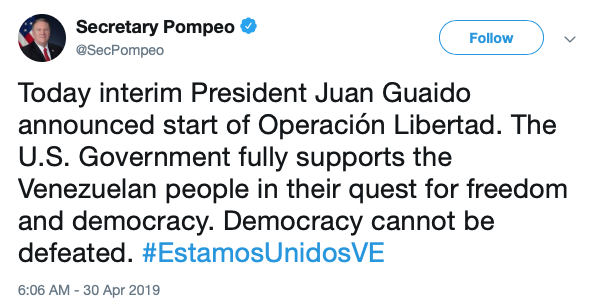 You know what's even better than democracy? A constitutional republic.
Good luck to Guaido and the people of Venezuela in their attempt to regain their humanity and freedom from socialist oppression.
For live video from Venezuela, watch below:
This is a developing story. Stay tuned to MRCTV for updates.