In a world where the most hotly debated topic is the use of the word "sh*thole," at least there are those that try and redeem the human race by doing things that actually matter.
Major League Baseball star Andrew McCutchen, who was traded from the Pittsburgh Pirates to the San Francisco Giants on Monday, is known for his acts of kindness and charity towards those less fortunate.
The fans in Pittsburgh are distraught over the deal that sent the Pirates franchise cornerstone to the Bay Area. So much so, that one Pittsburgh-area radio host decided to show the world just how great of a human being McCutchen is away from the ballpark.
Radio host Colin Dunlap took to Twitter on Monday — shortly after learning of the McCutchen trade — to post an unsolicited act of kindness from McCutchen to Dunlap's daughter following a cancer diagnosis.
Here's the tweet: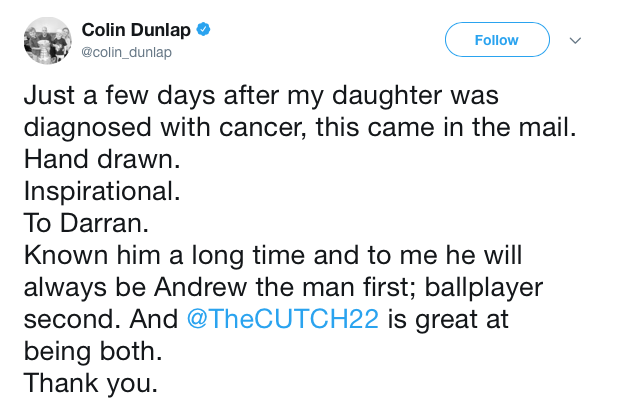 What a great message and very appropriate for a little girl that was down on her luck.
According to Yahoo! Sports, McCutchen drew the picture of Wonder Woman by hand.
This wasn't the first time McCutchen has been recognized for his kindness and generosity. In 2015, McCutchen received the Roberto Clemente Award in recognition of "the player who best represents the game of baseball through sportsmanship, community involvement and positive contributions, both on and off the field."
Anthony Rizzo of the Chicago Cubs won this past season's Roberto Clemente Award, primarily for his work kids who have cancer.
Pittsburgh's loss is most certainly San Francisco's gain. Good luck, "Cutch."