This is why baseball will always be "America's pastime" for me. Granted, baseball has more opportunity than other sports to have fun considering the baseball season contains way more games. Nonetheless, eat your hearts out football, hockey and basketball! Baseball at least has enough of a sense of humor to understand that it's okay to laugh at ourselves and other people in society without being malicious.
The Montgomery Biscuits - the Minor League affiliate of the Tampa Bay Rays - is hosting a "Millennial Night" at Riverwalk Stadium in Montgomery, Ala. on July 21. The organization's website lists multiple other promotional events for upcoming ballgames, but this promotion has received a lot of attention, both positive and negative.
Here's the hilarious tweet from the Montgomery Biscuits Twitter page promoting the event: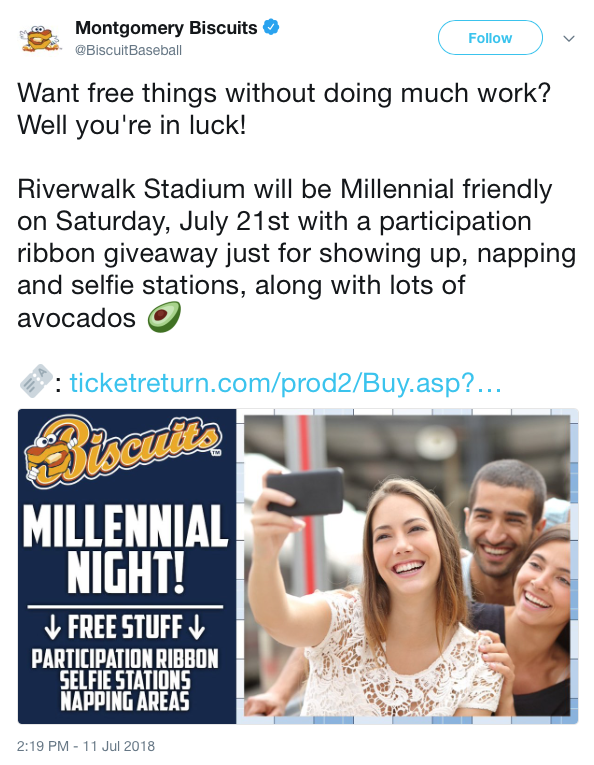 As for the Biscuits website, the description of the event is almost as funny as the tweet.
"Here's to you, snowflakes!" the event description reads. "It's time to celebrate the health conscious, tech savvy, socially oriented generation at the ballpark! Featuring superfood options, a millennial communication area, cord cutting stations, and more!"
Of course, actual millennials proved the Biscuits mocking of them correct by instantly being triggered.
Let's take a look at some of their outrage, shall we?


That liberal tolerance really shines bright, doesn't it?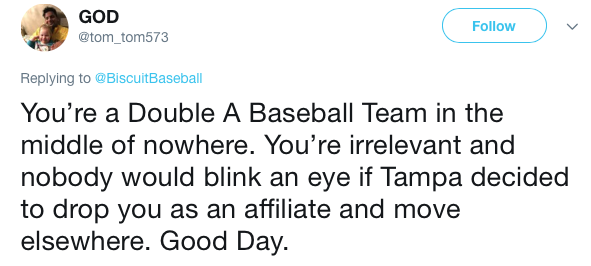 Apparently, jokes aren't allowed in triggered-land.
There's tons more of ignorant, wouldn't-know-a-joke-if-it-slapped-them-in-the-face replies on Twitter, but I simply don't want to go through any more of them for fear of losing my mind over the sheer amount of faux outrage.
According to Fox News, vice president of fan engagement for the Biscuits Mike Murphy said the organization was just trying to have a little fun.
"Eighty percent of the people in our front office are millennials, myself included," Murphy said, "and we're just having fun with some of the clichés that people point out about millennials."
No! You can't have any fun! The perennially triggered said so!