Following undercover journalist outlet Project Veritas' release of video showing alleged voter fraud through the practice of ballot harvesting, with apparent connections to Rep. Ilhan Omar (D-Minn.), the Minneapolis Police Department (MPD) sent out a tweet Monday evening to let the public know that they are "aware of the allegations of vote harvesting" and that they're also "looking into" the situation.
Here's the tweet (For a direct link to the tweet, click here):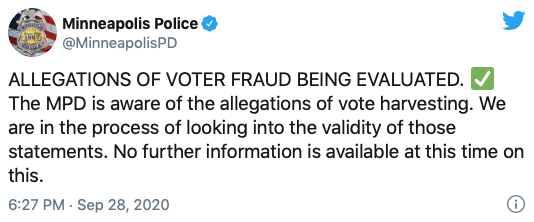 MPD's tweet came a day after Project Veritas' expose video showed "ballot harvesters" with piles of absentee ballots which they fill out after the "voter" lists their personal information and signs the ballot. In most cases, it looks as though money is given in exchange for someone's absentee ballot so that the "vote" can go towards a particular candidate — in this case, allegedly for recently elected member of the Minneapolis City Council Jamal Osman and Omar.
President Donald Trump even sent out a tweet very early Monday morning in which he called the activity "illegal."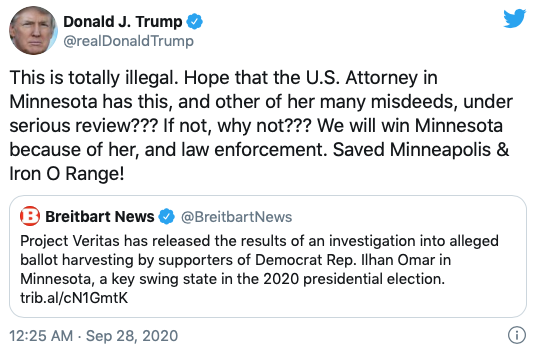 Project Veritas came out with a second video late Monday evening allegedly showing actual money being exchanged for a voter's ballot. For further coverage of the first Project Veritas video, click here.
H/T: Daily Wire