It's kind of difficult to show that you're not an anti-Semite when you don't understand how Jewish people could be offended by you referring to Israel as "evil." It's even harder to prove you're not an anti-Semite when you have no problem defending your comments on national television.
Rep. Ilhan Omar (D-Minn.) appeared on CNN Thursday and was asked about her 2012 tweet in which she wrote that "Israel has hypnotized the world" and called Israel's actions "evil." In the tweet, she also called on "Allah to awaken the people."
Here's the tweet: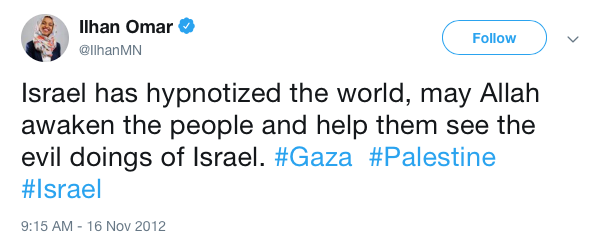 When asked about the tweet, and about her "message to Jewish-Americans who find that deeply offensive," Omar looked as if she was surprised at the question.
"Oh, that's really a regrettable way of expressing that," the Somali-American congresswoman said. "I don't know how my comments would be offensive to Jewish-Americans. My comments precisely are addressing what was happening during the Gaza War."
What stood out to me was the sentence Omar stated after the above quote.
"And, I am clearly speaking about the way that the Israeli regime was conducting itself in that war," Omar said, putting emphasis on "clearly."
Watch the clip below:
Fail. The way Omar said "clearly" indicates that she thinks her explanation of her tweet is above question.
Omar may have been alluding to Gaza War, but it most certainly wasn't "clear." The congresswoman might want to dust off her Webster's dictionary and look up the word "clearly."
H/T: Daily Caller