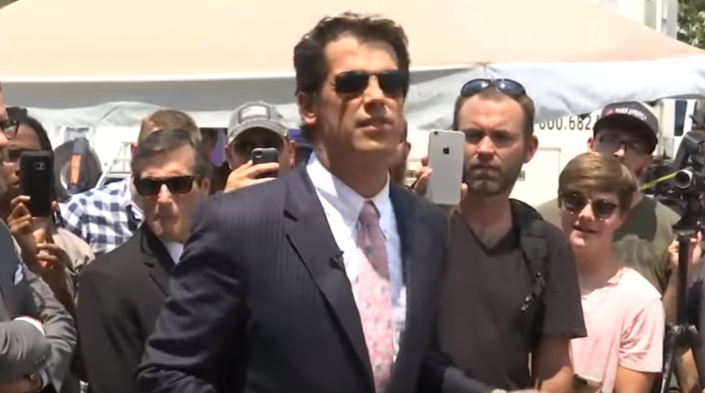 (Image: Screenshot/YouTube)
Breitbart Tech Editor and conservative firebrand Milo Yiannopoulos gave a speech Wednesday to a crowd of onlookers a mere one and a half blocks away from the Pulse nightclub in Orlando where 49 people were murdered in an apparent terrorist attack this past Sunday.   
Yiannopoulos had been on Twitter promoting his speech that he was supposed to give at the University of Central Florida (UCF) in Orlando on Wednesday. The speech was cancelled by campus police, because they claim that they could not guarantee his safety.
According to Breitbart, UCF officials also claimed that there was "no space was available for him to talk to students and the media."
As a counter measure, Yiannopoulos moved his speech entitled, "Absolutely Haram: Islam versus Gays." During the speech,Yiannopoulos, who is a citizen of the United Kingdom, spoke about how the United States is the greatest country on the planet. He also repeated how it's not radical Islam that is the problem, but Islamic ideology through the Quran as a whole.
"This is not radical Islam. This is Islam," Yiannopoulos pointed out.
Yiannopoulos also did not shy away from the gun control debate that people like President Obama have pushed ad nauseam since his first address about the attack.
Yiannopoulos stated, "Gun-free zones are safe spaces for killers."
Earlier in the day, Twitter suspended Yiannopoulos' account for a little under an hour, and Twitter went ablaze with the hashtag, #freemilo.
Yiannopoulos said that his Twitter was taken down because he was getting a lot of hate tweets from Muslims around the world. Some of the tweets were in Arabic and others in English.
He also brought up the fact that the Saudis do own five percent of Twitter.
According to the Associated Press:
Saudi billionaire Prince Alwaleed bin Talal and his investment company have doubled their ownership of Twitter's publicly traded shares in the past six weeks.

A joint statement released Wednesday by the prince and the Riyadh-based Kingdom Holding Company says their combined shares represent more than 5 percent of Twitter's common stock, with a market value of $1 billion.

With the most recent investments, Prince Alwaleed holds roughly 30,100,000 shares in Twitter and KHC has nearly 4,850,000 shares.
For the highlights from the Yiannopoulos speech, watch below: (Warning: Language)
For the full speech, click here.