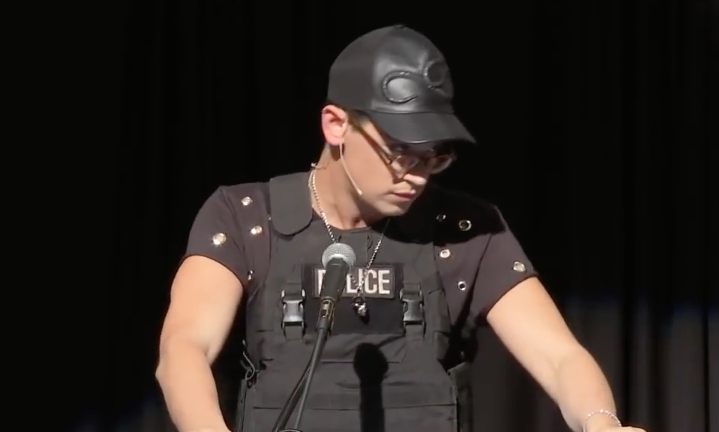 (Image: Screenshot/YouTube)
"I WILL BRING AN ARMY IF I HAVE TO."
Those were the words of alt-right provocateur Milo Yiannopoulos after the news broke that conservative speaker Ann Coulter cancelled her upcoming appearance at the University of California-Berkeley. Coulter pulled out of her scheduled Thursday speaking engagement at Berkeley after the Young America's Foundation (YAF) said the school and the campus police department could not gurantee the safety of Coulter or the students.
"Young America's Foundation will not jeopardize the safety of its staff or students," YAF stated.
"It's a sad day for free speech," Coulter told the New York Times.
Yiannopoulos took to Facebook to voice both his displeasure and his resolve.
"Awful to see my friend Ann Coulter forced to cancel her speech," wrote Yiannopoulos.
According to the post, Yiannopoulos has "Free Speech Walk" planned for later this year, and that is when he said that he will not back down.
Here's is the post in full: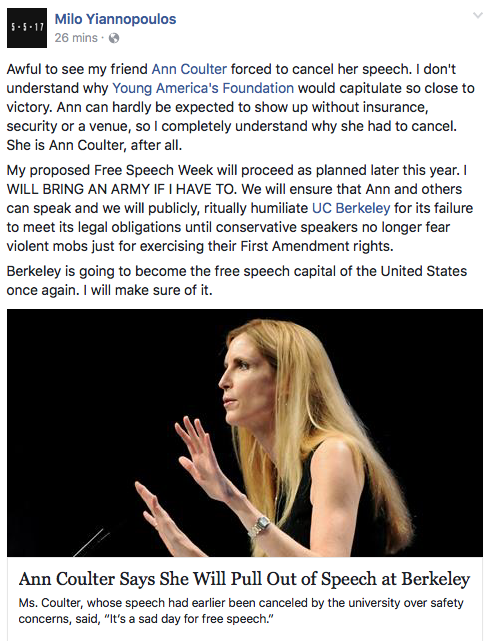 It's a good sign that people are trying to preserve free speech, but in places like Berkeley, the radical Left will do anything to ensure that free speech is squelched.
A sad day for free speech, indeed.
MRCTV Reader,
The liberal media are terrified of the truth, especially when it leads to uncomfortable questions about their own leftist worldview.
MRCTV is the multimedia division of MRC featuring original content and aggregated videos of the news, people, and events conservatives care about.
MRCTV relies on the support of our loyal readers (and video viewers) to keep providing the news and commentary that matter to the American people, not just stories that prop up the liberal agenda.
Make a donation today. Just $15 a month would make a tremendous impact and enable us to keeping shining the light where the liberal media are afraid to tread.
— The MRCTV Team
DONATE
Connect
Sign up for our MRCTV newsletter to receive the latest news.
Sponsored Links