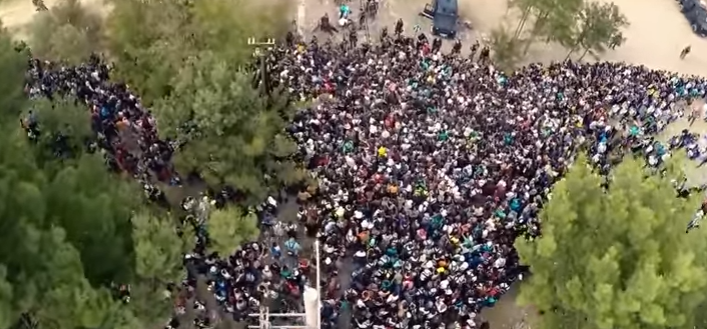 Here we go again, and it's no surprise that German Chancellor Angela Merkel is nowhere to be found.
In what many news outlets are calling a "copycat" sexual assault attack on German women, police are investigating many reports of sexual assaults by migrants.
The most recent attacks bear an eerie resemblance to the sexual assaults carried out by multiple migrants during last year's New Year's Eve in Cologne, Germany.
The most recent incidents of rape and sexual assault at the hands of migrants came during last weekend's "Essen Original" festival in the town of Essen. The typically family-friendly festival has been celebrated for over 20 years without incident.
According to Breitbart London:
Police have so far arrested seven men, four of which they confirmed were migrants they say are from the regions of North Africa and the Middle East and lived at nearby asylum homes. The suspects were detained and later released after being questioned, a practice that has been criticised by many and something neighbouring Austria has promised to change.

Authorities say that the attacks took place in various parts of the city with two particularly serious incidents occurring on Friday at 10pm near the Marktkirche church and in front of one of the festival stages at Kennedy square on Saturday at 11:30pm.
Basically, German police question these people and just let them go (think "sanctuary cities" like San Francisco or Philadelphia). It's almost as if world leaders and governments are trying to bring Gore Vidal's "Caligula" to life.
Similar to what happened in Cologne, this attack is just another example of what is called "rape Jihad." They don't like to call it that, but the idea behind this vile practice is to infiltrate an opposing religion or race by forcibly impregnating its women or making them their sex slaves with the thought of extreme radical Islamic assimilation.
Hec,k ISIS even released a set of guidelines, or "fatwas," for raping women and slaves.
As Yours Truly reported in January:
The most common practice consists of a group of men surrounding a woman in a crowded situation, while the men in the middle of the circle commit the heinous acts. The circle provides cover for the pigs carrying out the assault.
But this most recent attack did not just involve sexual assaults. As Breitbart London also reported:
Sex attacks were not the only crimes reported at the festival. Several festival-goers say that migrant men had harassed them, pick-pocketed them and others even claimed they had been violently attacked.
When future incidents like this happen, instead of calling them "copycat" attacks, maybe we can determine a pattern of behavior and just call the attacks what they are: a way of life for crazy, radical Muslim terrorists.