Public service announcement: if your wife happens to be the leader of a state and she's told everyone to stay home so they don't catch a deadly virus and die after forcing businesses to close and pushing millions of people onto unemployment for weeks, maybe don't prance about demanding people let you cut the line so you can go boating. 
Because while it might not be illegal, it's a jackhole move.
A perfect example of such jackholery is Michigan Governor Gretchen Whitmer's husband, Dr. Marc Mallory, who allegedly pulled the "I'm the governor's hubby" card in order to get a local boat docking company in Northern Michigan to drop his vessel in the water ahead of everyone else's, even as his wife – the head honcho of the state – was telling people in Northern Michigan to hunker down.
According to the Detroit News, NorthShore Dock LLC owner Tad Dowker said in a now-deleted Facebook post: "This morning, I was out working when the office called me, there was a gentleman on hold who wanted his boat in the water before the weekend. Being Memorial weekend and the fact that we started working three weeks late means there is no chance this is going to happen. Well our office personnel had explained this to the man and he replied, 'I am the husband to the governor, will this make a difference?'"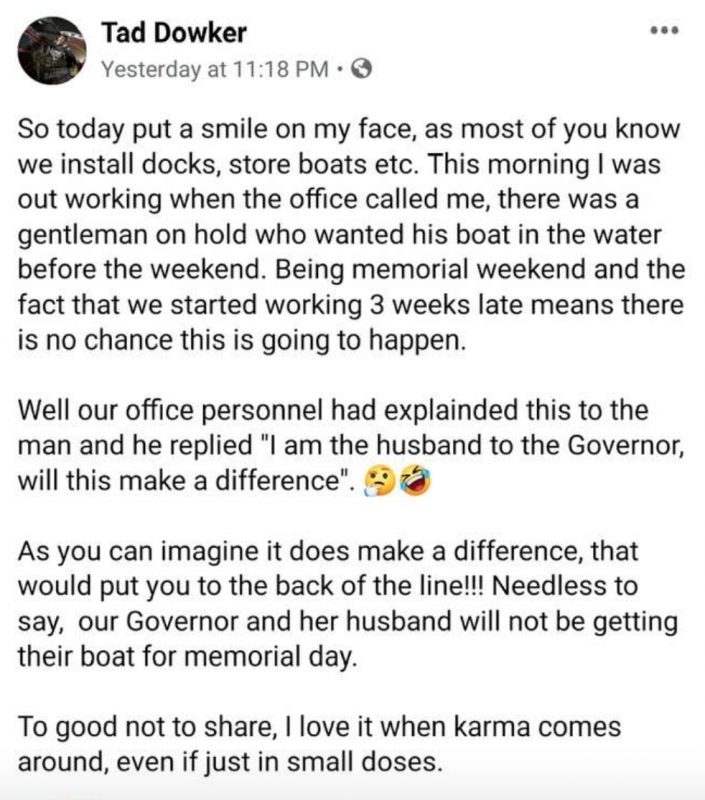 If the story is true, it doesn't necessarily mean Mallory did anything illegal (Whitmer had eased back restrictions on recreational boating weeks ago). But it would be highly questionable, considering that Gov. Whitmer, who at one point banned people in her state from accessing their own vacation homes, recently warned people against flooding into the northern part of the state and the upper peninsula now that the lockdown has eased, saying such travel risks spreading the coronavirus.
"If you don't live in these regions...think long and hard before you take a trip into them," Whitmer said at a May 18 press conference, where she announced she was easing back her stay-at-home restrictions.
"A small spike could put the hospital system in dire straits pretty quickly," she said at the time. "That's precisely why we're asking everyone to continue doing their part. Don't descend on Traverse City from all regions of the state."
The local boat dock that says they got the call from Whitmer's husband is located in Elk Rapids, where the governor, who primarily resides in Lansing, has property. Elk Rapids situated in the northern part of Michigan, just northeast of Traverse City.
Whitmer's office has declined to comment on the specific allegations against the governor's husband, saying instead that they're "not going to make it a practice of addressing every rumor that is spread online."
Dowker has deleted his post online, saying it's not because it's not true, but that his company is too busy (largely thanks to having been out of work for weeks) to deal with the influx of media requests.
Unfortunately for the American people, Whitmer (and her husband) isn't the only state leader who's appeared to put their family and personal needs above of their own shutdown orders. Just last week, Illinois Gov. JB Pritzker caught backlash after dozens of construction workers were seen crossing the Illinois border into Wisconsin to work on a massive house on Pritzker's farm – even after Pritzker warned his residents to stay home to avoid catching COVID-19 and either dying or spreading it to others.
Last weekened, Virginia Gov. Ralph Northam was seen posing for a number of photo-ops at Virginia beach, despite having shut down his own state for weeks and urging his residents to stay home and avoid getting close to people in public.