University of Michigan football coach Jim Harbaugh stopped by a Ruth's Chris Steak House on Tuesday to reap the benefits he helped earn for customers.
The restaurant located in Ann Arbor, Mich. recently offered a deal that would give customers one percent off their bill for every point that Michigan's football team beat its opponents by for the entire season. According to the Facebook page for Ruth's Chris, for example, if Michigan beat their opponent by 20 points one weekend, customers would get 20 percent off their bill during the next week. A creative idea, but there's just one problem: Michigan beat Rutgers 78-0.
Reminiscent of Michael Scott's "Golden Ticket" idea, Ruth's Chris franchise operator Buzz Goebel nearly put his restaurant out of business. It was Michigan's largest victory in over 75 years.
But Goebel insists there was a 50 percent cap on the promotional deal, although the original Facebook ad makes no mention of it: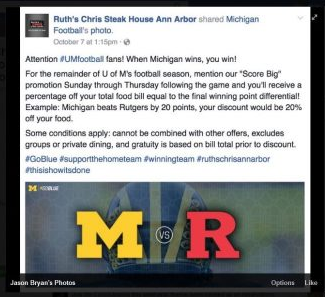 Reservation slots have been completely booked up and people have had to be turned away at the door.
"We were completely full through Thursday by nine o'clock this morning," Goebel said. "I'm thinking, well I guess I'm not getting my day off [Sunday]. I'm thinking this might not be what we were expecting."
Here's the new Facebook ad after the blowout victory against Rutgers:
Goebel is still optimistic he will make a profit from the deal due to alcohol being excluded from the promotion. "I love this," he said. "It's kind of scary, but you can't buy this kind of advertising. If we execute perfectly, we're in good shape." 
In other words, he's rooting for the Michigan Wolverines to do well, just not that well.