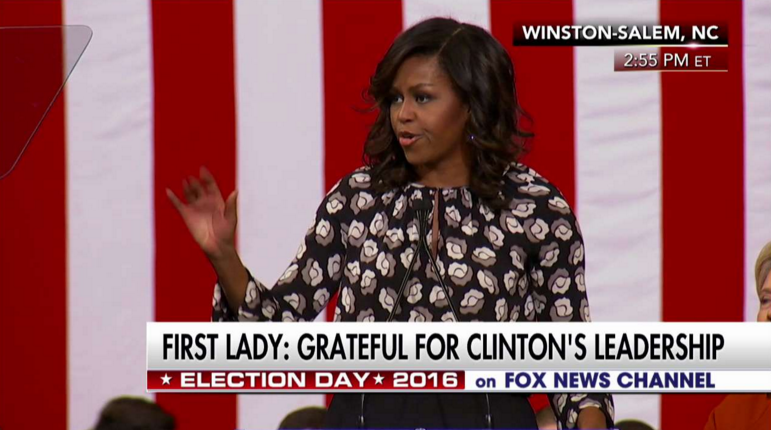 (Image via Twitter)
First Lady Michelle Obama attempted to make the closing argument for Democratic presidential candidate Hillary Clinton on Thursday at a rally in Winston-Salem, N.C. 
Michelle began by touting Clinton's history as a lawyer, senator, First Lady, and secretary of state.
"We have never had a more qualified candidate for president – never before in our lifetime," said Michelle Obama. 
"Hillary doesn't play," she went on. "She has more experience and more exposure to the presidency than any other candidate in our lifetime."
"And yes, she happens to be a woman," Michelle added.
She went on to contrast Clinton's "powerful and vibrant and strong" vision for America and Trump's vision "grounded in hopelessness and despair." 
"This election is also unprecedented because I don't think we've ever had two candidates with such dramatically different visions of who we are and how we move forward," Michelle said.
"That is the choice we face, between those who divide this country … and those who tell us to embrace our better angels and choose hope over fear.
"
The First Lady went so far as to say that she has "never been so hopeful for the future" of the country.
Check out a clip from the rally below. 
MRCTV Reader,
The liberal media are terrified of the truth, especially when it leads to uncomfortable questions about their own leftist worldview.
MRCTV is the multimedia division of MRC featuring original content and aggregated videos of the news, people, and events conservatives care about.
MRCTV relies on the support of our loyal readers (and video viewers) to keep providing the news and commentary that matter to the American people, not just stories that prop up the liberal agenda.
Make a donation today. Just $15 a month would make a tremendous impact and enable us to keeping shining the light where the liberal media are afraid to tread.
— The MRCTV Team
DONATE
Connect
Sign up for our MRCTV newsletter to receive the latest news.
Sponsored Links