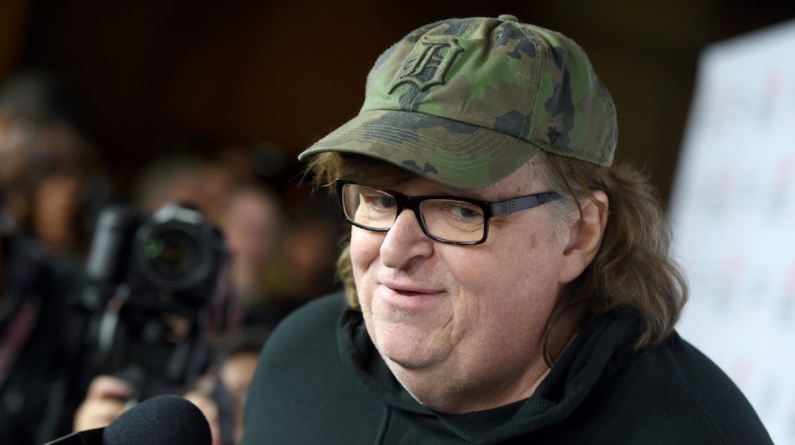 (Image via Twitter)
Outspoken left-wing filmmaker Michael Moore has issued a call to civil disobedience for Inauguration Day.  
Moore posted on Facebook a list of "5 Things You Can Do Right Now About Donald J. Trump" on Tuesday, including disrupting – albeit, "non-violently" – President-elect Donald Trump's inauguration ceremony on Jan. 20 and creating a "rapid response team" that will rally or protest Trump's polices at the drop of a dime.
"MAKE PLANS NOW TO BE AT THE INAUGURATION WEEKEND PROTESTS!" wrote Moore. "We need millions in the streets in DC – and that's what it looks like it's shaping up to be."
"On January 20th – Inauguration Day – a call has been gone out to non-violently disrupt the proceedings," he goes on. "Go to http://www.disruptj20.org/ and learn about civil disobedience on that day."
"Take the day off," Moore added. "No one should be silent that day."
In his Facebook post, Moore encouraged his followers to look up "DisruptJ20," an event organized by the "DC Welcoming Committee," self-described as "a collective of experienced local activists and out-of-work gravediggers acting with national support."
The group seeks to "shut down the inauguration of Donald Trump" as well as "any related celebrations – Inaugural parade, the Inaugural balls, you name it."
While they don't specify how they plan to shut down the inauguration ceremony, the DC Welcoming Committee says on its website that it's also planning "to paralyze the city itself" using blockades and marches.
They add that they will provide services "like housing, food, and even legal assistance" for anyone who seeks to join their efforts.
A Hillary Clinton supporter, Moore often voiced his opposition to Trump. 
He released a documentary titled "TrumpLand" just weeks before the election, which praised Clinton as the only candidate for the job. 
Read his full Facebook post below. 
MRCTV Reader,
The liberal media are terrified of the truth, especially when it leads to uncomfortable questions about their own leftist worldview.
MRCTV is the multimedia division of MRC featuring original content and aggregated videos of the news, people, and events conservatives care about.
MRCTV relies on the support of our loyal readers (and video viewers) to keep providing the news and commentary that matter to the American people, not just stories that prop up the liberal agenda.
Make a donation today. Just $15 a month would make a tremendous impact and enable us to keeping shining the light where the liberal media are afraid to tread.
— The MRCTV Team
DONATE
Connect
Sign up for our MRCTV newsletter to receive the latest news.
Sponsored Links