I guess the 8,496,319 television appearances by Stormy Daniels' attorney Michael Avenatti have gone to his head, because he actually says he has a shot at the presidency in 2020, should he decide to run for office.
Holy delusional, Batman!
Avenatti joined MSNBC's Joy Reid on "AM Joy" Sunday morning, and — of course — Reid asked Avenatti whether he'll run for president in 2020. It's like Reid is looking for anyone to take down President Trump. At this point, it's just become sad.
Not to be outdone by Reid's stupidity, Avenatti responded in a way that only a narcissist could.
"You know, Joy, I don't know yet. I mean, I've rung the alarm bell," Avenatti answered. "I think the Democratic Party needs to put forward some candidates that can actually beat Donald Trump. I think that's a very short list."
By Avenatti talking about whether he would run for president or not — and intimating that the list of people who could beat Trump is short — that would indicate that he believes he is on that list.
Take a look for yourselves:
Avenatti initially fueled Reid's presidential campaign question after tweeting a reply to a Twitter user that asked him when he was going to announce his presidential campaign.
Here's Avenatti's response: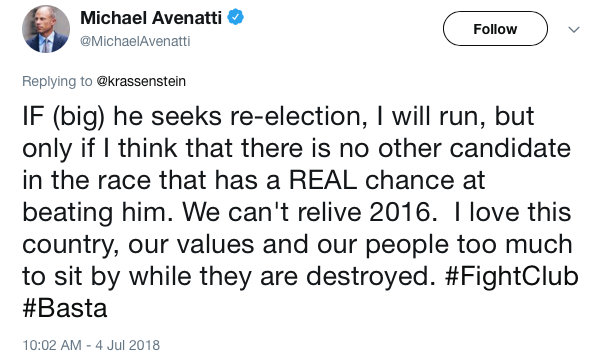 Now that is comedy gold. Thanks, Michael!
H/T: Daily Caller