All the gun control nut jobs need to take a chill pill, because the Second Amendment isn't going anywhere.
As a matter of fact, one gun range in Michigan has had to add additional dates to a promotion that offers "teachers, principles, school board, other school staff a couple of free firearm lessons" as a result of the overwhelming response to the initial offer.
Top Gun Shooting Sports, Inc owner Michael Barbour decided that in light of all the fervor to do something about preventing future school shootings, he would post an offer on his company's Facebook to give free handgun and concealed pistol licensing classes to school employees who want to learn about guns and gun safety.
Barbour couldn't have anticipated the response.
So many school employees signed up in the first day that Top Gun had to add additional dates the very next day in order to deal with the demand.
Here's Top Gun's Facebook post announcing the addition of more class dates: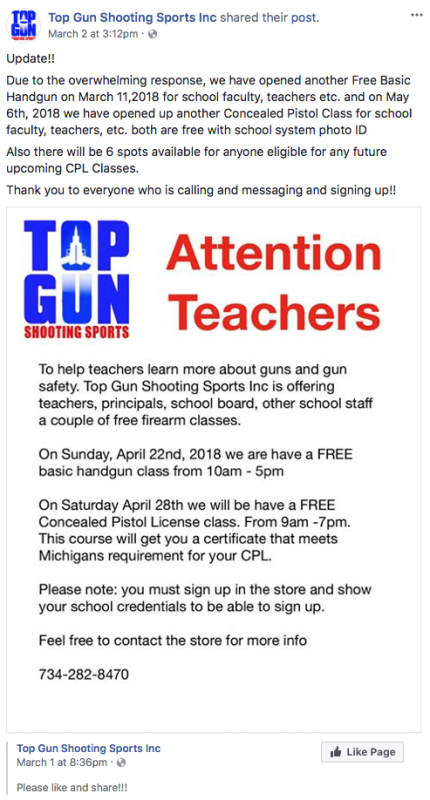 "I did this because every news media story out, there was a superintendent, a principal, a teacher, a teacher's union rep, whatever, saying they've got their finger on the pulse of these teachers and there's not one of them that wants this," Barbour told the News-Herald about teachers being allowed to carry firearms in school. "All of them think it's a bad idea and everything, but somehow I post a free class and all of a sudden, I've got almost 350 different training spots that we've opened up."
I've said it before, but as long as school employees are properly vetted, take training classes and the program to carry a firearm inside a school remains voluntary, I see no problem with this going forward.
"It's kind of mind-blowing to be honest with you," Barbour said. "It's just kind of crazy, when everybody's out there portraying that no teachers want this."
It's easy to understand why it might seem like "everybody's out there portraying that no teachers want this" when the media has a job to do.
To quote lyrics from an older John Mayer song; "When you trust your television, what you get is what you got. 'Cause when they own the information, they can bend it all they want."
Turn off your TV, don't listen to false narratives and live in reality.
H/T: IJR