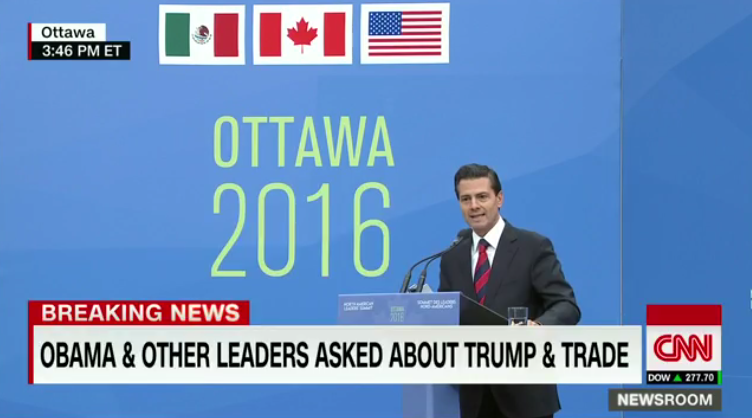 (Image via Screenshot)
During a press conference at the 2016 North American Leaders Summit in Ottawa, Canada, on Wednesday, Mexican President Enrique Peña Nieto responded to presumptive Republican presidential nominee Donald Trump's calls to build a wall and reform U.S. trade policies that "isolationism is not the solution."
He argued that the U.S., Canada, and Mexico should work together as a team "to make progress together as the most competitive region in the world."
"The North American Leaders Summit bears witness that isolated national efforts are insufficient," said Nieto. "If we want favorable results for the benefit of our societies, it is better to work together as a region."
"Isolationism is not the solution," he argued. "In contrast with what happens in other places in the world … we have decided to be closer, to work as a team, and to complement each other to make progress together as the most competitive region in the world."
Nieto added that the Mexican government respects the U.S. election process and will work with whomever wins the presidency in November. 
Trump praised the U.K. during a rally on Tuesday for voting to leave the European Union, contending that the U.K. decided "to take back control of their economy" and that the U.S. should follow suit.
He has repeatedly said that, if elected, he will build a wall on the U.S.-Mexico border as a part of his plan for immigration reform, arguing that "a nation without borders is not a nation."