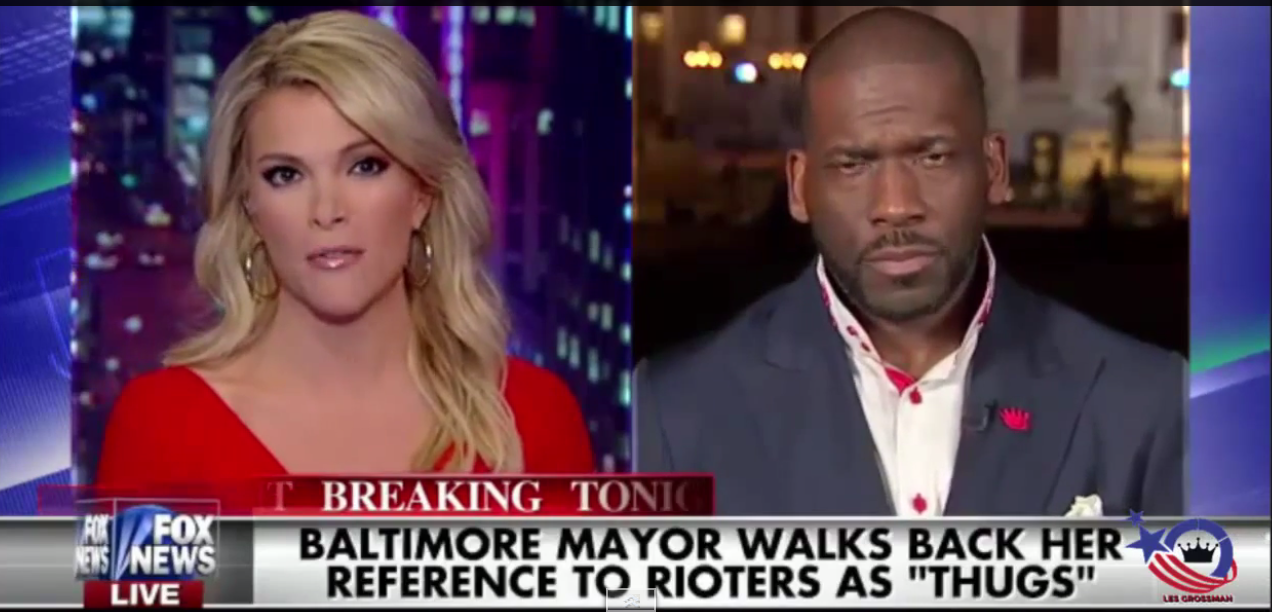 President Obama and Baltimore Mayor Stephanie Rawlings-Blake are guilty of "black-on-black crime" for calling the Baltimore rioters "thugs," said Baltimore Pastor Jamal Bryant, earning a dramatic eye-roll from Megyn Kelly in a heated segment on her show last night.
The segment started with Kelly displaying tweets from Baltimore's mayor which apologized for her own use of the word "thugs" and said that they are "misguided young people who need to be held accountable, but need our support."
Kelly clearly did not agree with Mayor Rawlings-Blake, and she challenged Pastor Bryant on why "thugs" is the wrong word for people who burn and steal.
"We've colorized the word thug," said Bryant. Baltimore city councilman Carl Stokes
claimed on CNN that the word "thug" is a stand-in for the n-word, an idea which echoed on The Nightly Show with Larry Wilmore and has been gaining ground on MSNBC.
Kelly wasn't buying it: "So, the mayor of Baltimore and Barack Obama, they are racist?"
"No," Bryant said. "They have committed black-on-black crime by using that word against people who look just like them."
"That's black-on-black crime?" said Kelly, struggling to contain laughter.
"Absolutely, and for you to be smug about it, and not see the seriousness of the offense…" he said, before Kelly cut him off.
"Maybe the White House is smug too, because they came out tonight, in the wake of Stephanie Rawlings walk-back, and they said they stand by the word 'thugs.' Barack Obama is standing by 'thugs,'" Kelly shouted, while Bryant continued to talk.



Bryant pointed out several instances of crimes by white people where the media did not use the word "thugs" to describe the criminals, but Kelly was having none of it.
"I don't know, I might be wrong, but I see Barack Obama and he doesn't strike me as a racist guy. The mayor, she doesn't seem like a racist woman, the police commissioner, the city councilman, all of whom said that word, I don't think they have hate in their heart," Kelly said.